Supes To Attempt Finagling Twin Cannabis Measures Onto June Ballot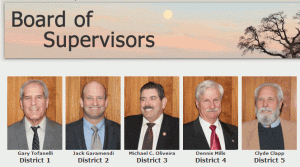 Calaveras County Board of Supervisors

View Photos
San Andreas, CA – Besides proclaiming it Kindness Week in Calaveras County in keeping with annual tradition, the supervisors have a packed agenda that includes an attempt to bring a twin-set of cannabis measures to the June ballot.
Should the board members muster at least a 3-2 vote allowing them to do it, they are potentially looking to bring either a special election or an "advisory vote" to the June 5 ballot, enabling Calaveras County voters to have their say as to whether or not the current supervisors' ban that was recently passed should stand or be replaced with one of two options.
As reported here, at the same Jan. 10 meeting in which they narrowly passed the ban, the supervisors, following up on a request by District 3 Supervisor Michael Oliveira, approved giving county staff direction to draft a twin-set of measures that they might further hone and possibly get a simple majority to agree on.
Of the set, Calaveras County Chief Administrative Officer (CAO) Tim Lutz remarked that one proposal would likely resemble the very ban the supervisors approved in a 3-2 vote; the other would most probably contain elements of the strict regulatory ordinance they failed to come to an agreement on. Of the 1,635-page Feb. 13 meeting agenda packet, the last nearly 700 pages are devoted to the proposed regulation and related documents. To view them, click into the agenda packet from this link.
In Other Business
Amongst other regular business matters, the supervisors will receive a report from the Calaveras Council of Governments (CCOG) and Transit Policy Committee. It deals with the potential transition of the county's transit program to a new provider from the public works department; also potential approval of a joint powers agreement (JPA) between the county, City of Angels Camp and CCOG for transit services within the two jurisdictions.
Among the 20 consent agenda items the board expects to address is allowing Mark Twain Health Care District to submit a ballot measure for voters to consider June 5 regarding its proposed plans for a new management lease and working relationship with Dignity Health, as reported here. In another elections-related matter, the board anticipates allowing the City of Angels Camp to submit a measure that will give voters the opportunity to decide if the City Clerk and Treasurer should be appointed rather than elected, as they currently are.
The meeting is scheduled to begin at 9:30 a.m. in the government center's supervisors chambers (891 Mountain Ranch Road, San Andreas), following an 8 a.m. closed session where the board will be discussing existing and anticipated litigation and labor negotiations.