Famous Fallen 'Tunnel Tree' Study To Begin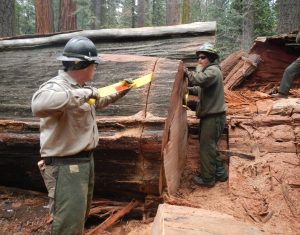 Fallen Pioneer Cabin Tunnel Tree in Calaveras Big Trees State Park

View Photos
Arnold, CA – The famous Pioneer Cabin Tunnel Tree came crashing down a year ago in Calaveras Big Trees State Park, now state parks officials hope the rings will help chronicle its life.
California State Parks, Save the Redwoods League and Humboldt State University have come up with a plan to use the fallen giant sequoia to collect fire and climate data. Senior Environmental Scientist at Calaveras Big Trees State Park Heather Reith explains, "Dendrochronologist, Allyson Carroll, will study the rings of the trees to determine the different fire intervals so we know how many years in between to put fire back on the ground for any of our prescribed burns. It will also help us to see any climatic changes that are happening and hopefully that will help us in the future to manage the giant sequoias during these changes."
A nearly 7 ½' by 3 ½' section of the trunk, which was broken into two pieces, was cut out using a large saw, as can be seen in the picture in the image box. The process took about ten hours total including cutting and moving to a park building to allow the specimens to dry out for at least six months. Reith adds that the pieces will be set up as park displays with markers detailing the different rings, noting, "The reason for two pieces is because they are working on the park's 'Three Senses Trail' and we hope to use braille on one of the pieces as well."
The iconic tree, which was nearly 205 feet tall and was more than 19 feet in diameter, has remained right where it fell on the park grounds last year after a combination of trunk and root decay and storm water runoff was determined to be what toppled the tree, as reported here. The section of tree covers some of the North Grove Trail, which was also damage by flooding last year, and a detour has been in place. Reith indicates, "We have decided to cut through the additional four feet of truck so that visitors can walk between the tree and possibly post more details on the sequoia's story on the two sides."  She adds they hope to have the trail open before the Memorial Day weekend.
In regards to what the park hopes the public will get out of the future tree ring study and exhibit, Reith comments, "We want them to see the science. We're having more drought years. We can all see that, but what's the effect on the trees. We also want them to see that fire was a natural part of the system. Showing those intervals in the rings so the public can see that all of these catastrophic fires could be avoided if we would have managed properly from the beginning with fire."
The tree ring study is expected to be completed by the end of 2019.