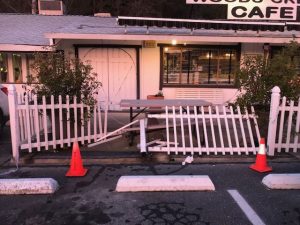 Damage to Woods Creek Cafe in Jamestown

View Photos
Jamestown, CA — The CHP is on the scene investigating a hit-and-run accident in Jamestown this morning.
Sometime early this morning, a vehicle sailed through a fence and smashed into a table as it landed on the front deck of the Woods Creek Café located at 18256 Highway 108, according to the CHP. The vehicle was gone when workers arrived for the morning shift in the five o'clock hour, but Owner Darci Scanlin tells Clarke Broadcasting that she was shocked to see the mess. She adds that the building was not damaged and they are open for business.
The CHP reports that officers are taking picture of the scene and will be checking surveillance cameras in the area for possible footage of the vehicle and its driver. Anyone who may have witnessed or has information on the crash is asked to call the Sonora Unit of the CHP at 209-984-3944. No estimated cost of damage has been given.