All Five Calaveras Supes' Seats May Be Up for Grabs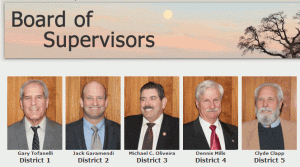 Calaveras County Board of Supervisors

View Photos
San Andreas, CA — Volatility among residents, many split over how the Calaveras County Board of Supervisors is handling the issue of commercial cannabis, exploded today.
Just before the lunch break at today's regular board meeting, Board Chair and District 1 Supervisor Gary Tofanelli and District 2 Supervisor Dennis Mills were both served Intent to Recall notices from citizens' groups who have collected at least 20 signatures. Both cast votes that helped swing the board 3-2 to approve a ban earlier this month, as reported here.
County elections officials, who acknowledge the activities in play, now say those papers must be filed with their office within seven days so the filing and signatures may be verified, which opens the way for recall petition processes to proceed. Already, as reported here, there is an active recall petition currently circulating against Vice Chair and District 2 Supervisor Jack Garamendi, a pro-regulation advocate.
All Seats In Play?
The remaining two supervisors are already going to be on the ballot as they are both campaigning this year to retain their seats.
District 3 Supervisor Michael Oliveira so far looks to be running as a moderate against Merita Callaway and Terrence (Ed) Langan. After the board's 3-2 vote that allowed a ban to replace the county's urgency regulatory ordinance, Oliveira asked for a board poll, which led to directing that staff prepare a draft twin-set of board-sponsored initiatives; one a ban and the other a much more strict set of rules than the previous urgency ordinance. However, it is uncertain as to whether they might be ready in time for the June ballot; or if the supervisors could come to an agreement on their final content.
District 5 Supervisor Clyde Clapp, a staunch pro-cannabis ban proponent — who ironically won his seat after the last election's recall effort that he himself led against Steve Kearney — may be facing at least two opponents, as Bruce Giudici and Benjamin Stopper in his district have both pulled papers.