Still Mired Calaveras Supes Catch Up On Non Cannabis Biz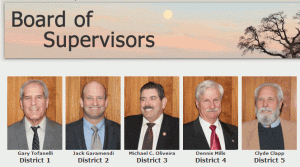 Calaveras County Board of Supervisors

View Photos
San Andreas, CA – This week, despite stated intentions to approve board initiatives on cannabis for voters to decide on the June ballot, the Calaveras supervisors have — so far — just one meeting slated.
For their regular Tuesday session, meeting documents list a handful of consent items along with five regular agenda matters, none of which address anything pertaining to the June election.
Of the items under the latter section, three deal with contracts involving IT software and modifications to contract memos of understanding with unionized county service and sheriff's employees. One involves appointments of applicants for as well as publishing vacancies needing filling by appointees to serve on various committees, commissions, advisory boards and county service areas.
The fifth regular agenda item, which requires a four-fifths majority to pass, does relate to Calaveras cannabis growers. It involves a staff recommendation to approve a $100,000 draw from the county contingencies fund to be used for cannabis growers' tax refunds, an issue that comes in the wake of a determination last December by the tax collections office that overpayments received require reimbursement. However, in order for refunds to be released, an expense account must first be established for them to be drawn from. The proposed allocation would be used to initiate that account.
As reported here, last week Calaveras County CAO Tim Lutz indicated that staff was busily following up direction by the board to prepare a twin-set of possible cannabis ballot initiatives in time to be considered for the June 5 ballot for which the window is rapidly closing.
Ostensibly, one would be a ban much like the one it had just passed to replace the county's urgency regulatory ordinance on medical marijuana grows, otherwise set to expire Feb. 14. The other, depending on what the board could agree upon, might resemble something somewhere in between the regulations proposed by District 1 Supervisor and Board Chair Gary Tofanelli and those suggested by the County Planning Commission last fall.
Whether or not this comes to pass, the board must vote to enact its own ban within 30 days of passing it in order for it to become law or local rules will default to current state laws.
Tomorrow's meeting opens to the public at 9 a.m. in the government center's supervisors chambers (891 Mountain Ranch Road) following an 8 a.m. closed session to discuss personnel contract negotiations and a possible matter of litigation.