Tulloch Lower Than Ever? Drawdown, Day Use Area Update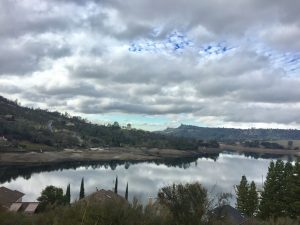 Lake Tulloch during Jan 2018 Drawdown

View Photos
Copperopolis, CA — If it looks like Lake Tulloch is as low as it has ever been, it is because it might well be.
Tulloch at one point brimmed at nearly 510 feet above sea level during last year's recreational season, which runs from Memorial Day weekend through the Labor Day holiday. This month the drawdown level will bottom the reservoir out, so to speak, at 475 feet.
Tri-Dam Project License Compliance Coordinator Susan Larson, admits, in the nearly 30 years she has been around the reservoir she has not seen it reach this level even during an extended drawdown year, such as this one.
Scheduled every five years, these major drawdowns allow Tri-Dam to conduct compliance chores such as dam safety inspections, testing and maintenance. This month, as Tulloch reaches its maximum down state, it will remain so for up to four weeks before the fill schedule begins, although plans are, of course, subject to change in the event of storm events and heavy precipitation.
In Oroville's Wake, More Dam Testing
"California Division of Safety of Dams (DSOD) personnel will be onsite later this month to perform inspections at the dam along with Tri-Dam staff," Larson reports. She confides, "Another thing that came as part of the Oroville [Dam break] incident is that dam operators across the state were required to perform extensive testing by independent consulting firms and engineers of the spillways at each of our dams." Tri-Dam completed this additionally required scope in late December, she notes, and filed it with state and federal regulators ahead of the deadline.
For residents and interested members of the public, Tulloch's daily level, fall drawdown and fill schedules are posted on the Tri-Dam website. Too, ahead of years like this, Tulloch area residents receive a direct email so they have time to prepare as well as plan in the event they would like to do some permitted work on their properties while the waters are low. Larson recounts that last season's advisory came out in late August along with word that space was available near the bridge, if needed, for landowners to store their docks.
Even at this lowest point — where the lake bottom is visible in spots along the shoreline — Larson points out that the lake is still accessible, although presently somewhat more challenging from highly perched properties. "People are still fishing and taking out pontoon boats," she says with a grin. As for what the public should know about the current conditions, she advises, "Even though Tulloch is low at present you can still see fluctuations in storm events so we ask everyone in and near the reservoir to always be careful — always watch the reservoir levels – especially around storm events because you get side flows and other flows coming in."
Tulloch Day Use Area Moving Forward 
Larson shares with Clarke Broadcasting that Tri-Dam's plans to develop what it is calling its Tulloch Day Use Area on a north-side lake parcel it purchased near the Lake Tulloch bridge continue to move forward, albeit, slowly due to FERC's enormous workload of filings. "As soon as we receive additional guidance and approval from FERC, Tri-Dam will proceed to fulfill out license requirements providing a day-use access point for the public," she happily states.
Back in late December, Tri-Dam filed a supplemental application to its final proposed public day-use site plan upon the agency's request. The updated version now includes a wetlands enhancement area along the shoreline. "As soon as we get FERC approval we will proceed to the development phase of the site," Larson explains with a note of excitement.
Although FERC officials are precluded from giving a timeline on their review process and Tri-Dam will still need to apply for and obtain all the necessary permits, she allows that, in the schedule proposed to FERC, Tri-Dam specified that it hopes to get to work on the day-use area this year and have it complete by 2019.
To view Tri-Dam's updated plans and current lake images, click into the image box slideshow. To follow the latest lake level readings and other Tulloch news, click here