Jury Picked During Day One Of Payne Trial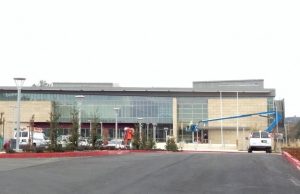 Calaveras County Superior Courthouse

View Photos
San Andreas, CA – While it took a whole day to do it a jury was selected to try Copperopolis resident Dean Payne, accused of gravely injuring two women while drunkenly piloting his boat on Lake Tulloch.
As reported here, at Calaveras County Superior Court officials had indicated during Tuesday's final trial readiness hearing that jurors should be prepared for the trial to run through Feb. 2. Just before court recessed yesterday at 5:44 p.m., Day One of the trial wound up with the swearing in of 12 jurors and four alternates by Judge Susan Harlan, who instructed them to return this morning at 10:30. Through the examination process just two prospective jurors were eliminated for cause although several were excused for various hardship reasons.
Earlier in the day both sides stipulated that Judge Thomas Healy could be excused as a prospective juror in the case. Payne's attorney Ken Foley last November filed a request to have the judge recused due to what he termed as prejudice against his client. Court and counsel also discussed the planned jury members' viewing of Payne's boat, an activity District Attorney Barbara Yook requested they be allowed to do that was granted by the court.