Pot Houses: Too Many, Too Close For Sheriff's Comfort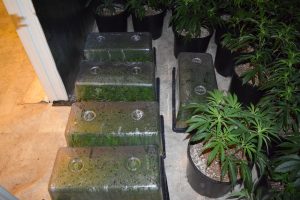 Indoor marijuana grow in Valley Springs

View Photos
Valley Springs, CA – Several raids in Calaveras County point to a trend where entire houses are being turned into marijuana grows and that has sparked concerns from the sheriff regarding the hazards – in turn he disclosed to Clarke Broadcasting that one was right next door to his home.
While reporting to Clarke Broadcasting on a second raid in just one week on a pot house in the 6000 block of Highway 26 in Valley Springs that involved 1,346 plants seized, Sheriff Rick DiBasilio described how he also recently discovered a neighboring grow, "Midnight, my dogs are barking and I go out and yell at the dogs and see two cars drive out of the driveway. The next morning I go over and check the house and see a layer of green through the window in the house." The sheriff relayed that he called the property owner who informed him the home was rented a week ago. He added, "At noon my wife calls me up and says, 'Hey there's a truck backed up to the house and they're loading everything up and their leaving."
Sheriff DiBasilio says it is becoming a big problem as many of the homes rented have no one locally overseeing the property. Recently, the sheriff has also voiced fire concerns, as reported here. He now has additional worries related to the destruction to the homes and possible contaminants getting into waterways. "You have wires hanging from the walls. They've cut holes into the walls and ceiling to add all the extra lighting. They've put up false walls to enclose a living room. Then there's the issue if there is mold in the house they have to remove sheet rock and chemicals poured down sinks and toilets that can get into septic tanks and sewer systems."
During the latest large bust, a 57-year-old Asian woman from Sacramento was arrested, which DiBasilio advises is also a notable common trend, stating, "We have a large amount of Chinese folks that are moving into the area, whether through rentals or purchasing of homes and having these indoor grows. Obviously, all the ones we have been dealing with are illegal grows because they're not registered, they've never been registered and there is no way they can register."
As reported here, last week Calaveras supervisors narrowly voted to ban all commercial cultivation in the county, which if enacted will require all registered growers and those with pending applications to cease their operations.