Mother Lode MLK Jr. Celebration Brings Cheers And Protesters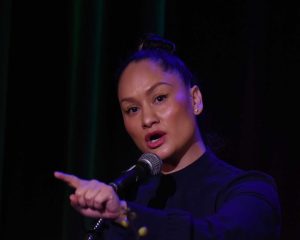 Carmen Perez at Mother Lode MLK Jr. Celebration

View Photos
Sonora, CA — Hundreds packed into the Sonora High School auditorium Sunday afternoon for the annual Mother Lode Martin Luther King Jr. celebration.
The keynote speaker was Carmen Perez, Executive Director of the group Gathering for Justice and co-chair of the national women's march. Perez was considered a contentious selection among some, as she drew dozens of protesters outside, many who were identifying as being supporters of groups such as the State of Jefferson, the Minutemen Patriots, and others. Some of the protesters were waiving American flags, Jefferson Flags, and signs promoting President Trump.
At one point Perez referenced the protesters during her speech, and stressed the importance of using peaceful protest strategies, and listening to those who you disagree with to understand their point of view.
The event also featured music from the Pine Cone Singers of Groveland, and special recognition was given to local residents Amy Ada and Joe Haratani. In addition, Courtney Tolhurst was the winner of the MLK Jr. essay contest, and she read her piece to the crowd. The invocation was delivered by Imam Ahmad Kayello of the Modesto Islamic Center and the closing was from Rabbi Andra Greenwald.
The Sonora Police Department had officers patrolling outside throughout the event, but it proved to a peaceful gathering.