Democrats: You Deserve Better Jobs, Wages & Future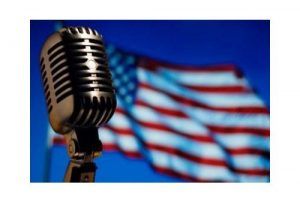 Microphone and US Flag

View Photos
During the Democratic weekly address, Rep. Terri Sewell (D-AL) discussed Martin Luther King Day and said that in honor of the holiday, congressional Democrats "will be hosting events to talk with constituents about the consequences of the tax bill and our plan to fight for working families."
Sewell was Tuesday's KVML "Newsmaker of the Day". Here are her words:
"Hi, I'm Congresswoman Terri Sewell, representing Alabama's 7th Congressional District, the civil rights district, and a member of the House Ways and Means Committee.
This weekend, our country will come together to celebrate Martin Luther King Day, and to remember Dr. King's legacy of equality, compassion and action in the face of injustice.
But remembering is not enough. Fifty years after King's death, many Americans continue to suffer from the same injustices they endured five decades ago.
Our country needs action.
We need action to ensure that working Americans have the resources and opportunities they need to compete in today's workforce.
We need action to provide our children with an education that prepares them for 21st Century jobs.
We need action to ensure that all Americans have a chance to compete on a level economic playing field.
Dr. King saw economic success for all Americans as a keystone of equality. He recognized that economic issues were civil rights issues. 'The struggle for genuine equality means economic equality,' Dr. King told a rally of sanitation workers in Memphis, barely two weeks before his death. He said, 'For we know now that it's not enough to integrate lunch counters. What does it profit a man to be able to integrate a lunch counter if he doesn't have enough money to buy a hamburger?'
Five decades after his death, Dr. King's words still ring true today. Income inequality is on the rise, our middle class is shrinking, and a competitive education is more expensive than ever.
So when I see families in my district who are struggling to find work, when I meet mothers who can't take time off to care for their children, when I see the poverty that still exists in America, I am reminded of what Dr. King said about the 'fierce urgency of now.' He said, 'There is such a thing as being too late. This is a time for vigorous and positive action.'
Our working families are facing real challenges that require immediate action, but instead of tackling these challenges, Republican leaders have spent their time pushing a tax bill that gives huge giveaways for special interests and the wealthy, while driving up costs for working and middle class Americans.
In fact, an estimated 83 percent of the tax bill's cuts go to the top 1 percent of America's wealthiest households. Meanwhile, the tax bill's temporary benefits for the middle class workers evaporate after just a few years, resulting in a tax increase for 86 million middle class families.
Instead of simplifying the tax code or making it fairer, the GOP tax bill sticks working Americans with $1.5 trillion in debt in order to pay for corporate tax cuts.
While passage of the GOP tax bill will have tragic consequences for our working Americans, I can promise you this: I promise that our fight for middle class Americans is far from over.
This weekend in honor of Martin Luther King Day, Democratic Members of Congress from across the country will be hosting events to talk with constituents about the consequences of the tax bill and our plan to fight for working families.
The American people deserve better than what they're getting from the Republican Congress's relentless campaign to put the wealthy and well-connected ahead of everyone else.
You deserve A Better Deal: Better Jobs, Better Wages, and a Better Future – and that's the strong economic agenda that Democrats are fighting for in Washington.
A Better Deal means creating jobs and wages in communities that have lagged behind.
A Better Deal means lowering the cost of living for families across America.
And A Better Deal means giving every American the tool to thrive in the 21st Century.
This Martin Luther King Day, let us be imbued with renewed faith in our collective ability to bring about social and economic change. Let us recommit ourselves to the unfinished work of King's vision.
There is a fierce urgency. The time for action is NOW, and that's why House Democrats are fighting for better jobs, better wages, and a better future.
Thank you and happy Martin Luther King Day!"
The "Newsmaker of the Day" is heard every weekday morning at 6:45, 7:45 and 8:45 on AM 1450 and 102.7 FM.