Sierra Storm Gust Sets Wind Records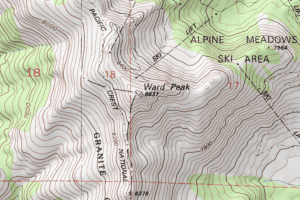 USGS Topo Map Detail of Ward Peak Tahoe

View Photos
Sacramento, CA — Although California has never held an official wind record before one was sanctioned this week for a 199-mile-per-hour gust generated by a Sierra winter storm.
It also turned out to be the fastest non-tornado wind recorded last year across the U.S.
Sacramento-based National Weather Service meteorologist Eric Kurth recounts to Clarke Broadcasting that he was working the evening it happened last year on Feb. 20 around 11 o'clock during an intense atmospheric river-driven storm.
The auto-recording came in from the northern Sierra Nevada crest at a location located on Ward Peak inside Alpine Meadows ski resort and it immediately caught Kurth's attention. As he explains, "This is an unusual situation. There are not very many record winds on the state level. A famous world record — 231 miles-per-hour at Mt. Washington in New Hampshire was  overturned several years ago by a typhoon wind out in the Pacific."
Gust Generates 'Extreme' Gathering Of Scientists
He adds, "To get winds up around 200 miles-per-hour is really incredible anywhere in the world. It is something you typically only see up in the jetstream where the airlines fly. So I researched for records." What he turned up was only an anecdotal note — recorded at the same location — for 176 miles-per-hour, so he conferred with the state climatologist and they contacted the National Climate Data Center to see if they wanted to look into it. It turned out that the scientists there did.
Subsequently, a State Extremes Committee group of scientists convened, to which Kurth contributed a history of previously recorded weather data and vetted additional information that helped solidify that the reading was accurate. Kurth says while Ward Peak is a very windy spot, the conditions the night of Feb. 20 provided a perfect setup for an extraordinary wind gust.
Delving into the discovery part of his research he learned that weather stations' readings at Squaw Valley and Alpine Meadows basically agreed with each other for the same time frame, also showing sustained winds. "We were concerned here about winds in the mountains…also coming down bringing 55 to 65 mile-per-hour winds into the foothills and the valley," he recalls. However, it turned out that the storm's stable layer kept them above, constricted and concentrated them – kind of like a constricted garden hose — at the 9,000 foot level.
Pondering Possible Past, Future Incidents
After managing to contact personnel at Alpine Meadows the next morning, Kurth heard that the winds had broken windows at the ski lift and about a dozen large, two to three-foot wide trees had snapped. "So we had not only the readings but physical damage to confirm that something special had happened," he confides.
Further musing that both ski resorts had sufficient enough equipment to sustain the storm, he allows that it is quite probable that other such incidents could have occurred in years past before that was the case.
The takeaway, he says, "I think that people out here in the west don't realize than the winds out here can be really strong as well…It is hard to imagine what a 200 mile-per-hour gust would be like…way beyond something you could stand in…I certainly would not want to encounter it — hurricane winds [can be] over 100 miles per hour but 200 mile-per-hour winds have hardly been experienced by anyone who lived to tell."