Insurance Companies Denying Policies In Fire Prone Zones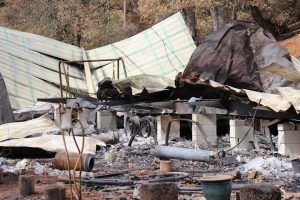 Butte Fire Recovery Debris Removal

View Photos
Sacramento, CA — Insurers are increasingly refusing to offer homeowner's policies in areas prone to wildfire, according to California's top insurance regulator.
This week Insurance Commissioner Dave Jones reported that in 2016 insurers refused to renew more than 10,000 policies in the 24 counties most susceptible to blazes, a figure that has jumped 15 percent from last year.
"Californians are facing more severe, more unpredictable and more frequent wildfires," said Insurance Commissioner Dave Jones. "Add to the equation, increasing development in areas more vulnerable to fire and you can see why wildfires are now an everyday threat to life and property for Californians."
While some consumers can still get coverage from traditional insurance companies, the state has seen an increase in people forced to turn to last-resort fire insurance program that can cost more and give less coverage. Jones sees the problem only getting worse as insurers deem more houses as wildfire risks following last year's deadly and destructive wildfires that destroyed thousands of homes.
"Insurers are increasingly using computer models to assess the risk of fires for individual homes and deciding that homes in some areas face too high a risk," said Jones. "In the wake of last year's wildfires, we may see more areas of the state where insurers decline to write. The Legislature has given insurers broad latitude to decide whether and where to write fire insurance, therefore we are recommending new laws to improve fire insurance availability."
Jones directed his department to conduct its own in-depth analysis of the scope of the availability and affordability insurance issue facing the state and to develop possible solutions. Click here to view the entire report.