Mother Lode Rancher, Business Leader Jack Gardella, Jr. Passes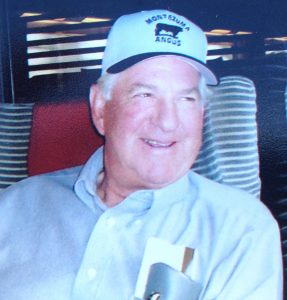 Jack Gardella Jr. of Montezuma Ranch Jamestown

View Photos
Sonora, CA – Third-generation Tuolumne County cattleman Jack Gardella,Jr., 76, passed away Tuesday at his home at Montezuma Ranch in Jamestown following a brief illness.
In an interview with Clarke Broadcasting, son John shares that his father had been diagnosed with terminal lung cancer back on Oct. 10. "So, it was not sudden — he had family all around him and we had Christmas with him…and New Year's."
John describes Jack, a life-long community leader, as a force in ranching across the region. "His first and true love was cattle but he did his little stint in raising horses, too. He recently, took an interest in other livestock…and we learned to do a lot of grass farming — and that is basically what we are — and that was something that he was proud of," John states. "I think the thing that I am most proud of – of my Dad – was that he thought 'outside the box' – it wasn't just because his Dad did it this way or his uncle did, or whatever. He could do and try things and was a forward thinker." Among his other business interests Jack was one of five ranch owners behind the Jamestown-based Rawhide Meat Company.
A 1959 graduate of Sonora High who excelled in sports, playing football, basketball and baseball, Gardella attended Modesto Junior College before turning his full-time attention to ranching. John, further recalling some choice memories, chuckles, "Another thing that I am grateful for is that — I have two sisters — and we all played sports and he never missed one of our games at Sonora High. Not one! I played three sports for four years…one of my sisters also did — and the other one played two sports for four years, so that's a lot of games!" In fact, last fall, as Jodi was inducted into the Sonora High Wildcats Hall of Fame her father Jack was there to watch. Looking back, John says it was one of his last "out on the town" outings.
Jack Gardella is survived by his wife Tricia, son John, daughters Jodi Richie and Michelle Keefe and their families, which include seven grandchildren.
A Funeral Mass is planned for next Friday, Jan. 12 beginning at 11 a.m. at St. Patrick's Catholic Church (127 W. Jackson St.) in Sonora with a burial to follow at St. Patrick's Catholic Cemetery.
John adds that on Saturday, Jan. 13, a Celebration of Life will be held in Gardella's memory at Montezuma Ranch, located 8920 Montezuma Road, a mile off Highway 108. It begins at 2 p.m. and is open to the public.