Mind Matters Receives A $5,000 Grant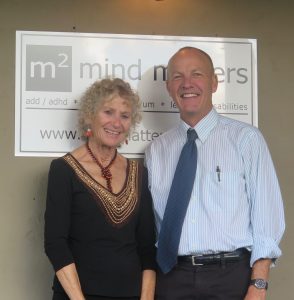 Trudy Lackey, Executive Director and Dr. Ryan Thompson is the clinic's founder and Medical Director of Mind Matters

View Photos
In Calaveras County, perhaps no clinic is more familiar with autism than Mind Matters.
Trudy Lackey, Mind Matters Executive Director, was Friday's KVML "Newsmaker of the Day".
Mind Matters is a non-profit treatment center devoted to the diagnosis, treatment and support of individuals and their families with Autism Spectrum Disorders, Attention Deficit Hyperactivity (ADHD), Learning Disabilities and related issues using biomedical, psychological, social and technological approaches.
A $5,000 unrestricted grant has been given to Mind Matters from the Callan Family Fund.
According to Lackey, "Without donors and grants, we couldn't survive. Grants means that families will be able to benefit from our services. 66% of our funding comes from donors and grants, with the remaining 34% coming from patients and insurance."
Located in Murphys, California, Mind Matters serves as a community resource to patients, their families, educators and government agencies to educate and advocate for services available to affected individuals.
Mind Matters was created ten years ago by Dr. Ryan Thompson and his wife, Kim, when they were unable to find a facility that could help their autistic son, Mitch.
Autism is a complex developmental disability that typically appears during the first three years of life and affects a person's ability to communicate and interact with others. Autism is defined by a certain set of behaviors and is a "spectrum disorder" that affects individuals differently and to varying degrees. There is no known single cause of autism, but increased awareness and funding can help families today.
Mind Matters is a 501(c)3 nonprofit organization and relies on tax deductible donations.
For more information, log on to http://www.mindmattersclinic.org
Further information is available at (209) 728-2184.
The mailing address is 150 Big Trees Road, Suite D, Murphys CA 95247.
The "Newsmaker of the Day" is heard each weekday morning at 6:45, 7:45 and 8:45 on AM 1450 KVML.