Erratic Driving Nets Drug Bust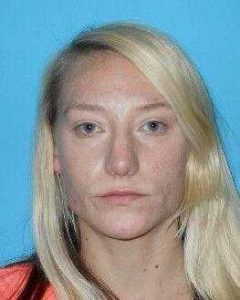 Nicole Ley

View Photos
Sonora, CA – While patrolling southbound on Highway 49 near Parrotts Ferry Road, a Tuolumne County Deputy came upon a vehicle whose driver repeatedly sped up and slowed down and then pulled in for gas prompting further investigation.
It was just after 1 a.m. when the driver of the Chevrolet Cavalier pulled into the Arco gas station on Pesce Way in Sonora. The driver, 29-year-old Dustin Stevens and his passenger, 26-year-old Nicole Ley, were questioned by the deputy. Stevens is on parole, which allowed for a vehicle search that turned up a needle in the car and two orange syringe caps inside of Ley's sweatshirt on the seat. Ley admitted that the items belonged to her and she was arrested.
Once at the jail, Ley's was searched and a baggie containing .14 grams methamphetamine and another baggie of .46 grams of heroin was discovered in her bra.  Ley faces charges of possession of drug paraphernalia and bringing a controlled substance into the jail. Her bail was set at $25,000.