Fake Signs Mock California's New Immigration Law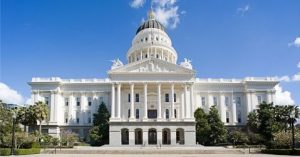 California State Capitol

View Photos
Sacramento, CA — Fake highway signs have cropped up along California state welcome signs to criticize a new immigration policy that began Jan. 1.
Already, transportation officials removed two of the postings near the Nevada and Arizona borders placed under the official "Welcome to California" signs, which read "Official Sanctuary State." The paper signs go on to say "felons, illegals and MS13 welcome! Democrats need the votes!" The signs take a jab at California's "sanctuary state" law that adds new protections for immigrants living in the country illegally. State and local law enforcement are restricted from cooperating with federal immigration officials under the new law.
Transportation spokesman Mark Dinger says one notice was removed Monday and the other was taken down on Tuesday. However, the department has unconfirmed reports of more signs posted along highways in the state. No one has claimed responsibility for the posts as of yet and Dinger adds that the state does not have any information on the individual and/or group that put up the signs.