Attacking Wildfire Cycle With More Controlled Burns In 2018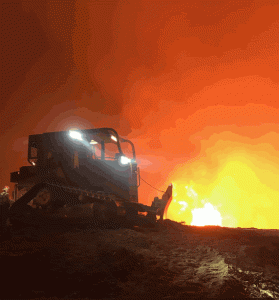 CAL Fire TCU Bulldozer Working At Thomas Fire

View Photos
Sacramento, CA – As wildfires continue to rage in the southern portion of the state, fire officials are hoping to end what might be described as a nearly endless cycle by planning to set more controlled burns.
Their goal of thinning away from forests accumulated dead trees and underbrush they say will remove the kindling that helps fuel monster blazes. These fires that careen out of control are not only extremely expensive, despite mammoth firefighting efforts, they still cause enormous property and infrastructure losses, especially when the flames reach populated areas.
In October thousands of homes burned and 44 people died from wildfires north of San Francisco. This week, while a fire northwest of Los Angeles still raged after destroying more than 700 homes, the U.S. Forest Service and CAL Fire say the threat will remain high due to an estimated 129 million trees that died in California over the last year from drought and beetle infestation.
Along with focused clearing projects the agencies are planning more aggressive use of prescribed burns in areas with bone dry "surface fuels." Officials share that since July 1, crews have burned 13 square miles of accumulated dry needles, leaves and bark — more than double the amount cleared three years ago. They say the goal for 2018 will be to burn at least 31 square miles and also clear a similarly sized area.
Another goal, centered on protecting population centers, will be having state and local authorities increase their inspections to ensure that residential and commercial property owners are maintaining cleared spaces required by law between their properties and forestland.
Controlled burn opponents contend that these fires release greenhouse gases into the atmosphere, put lives and property at risk, and kill wildlife and old trees that may never grow back. Fire officials counter that these events, which are low-intensity and are conducted in cooler temperatures during high humidity and calm wind conditions, produce significantly less smoke than wildfires, which have the capacity to destroy all growth in their path.