Elderly Assault Escalates Into Struggle With Deputies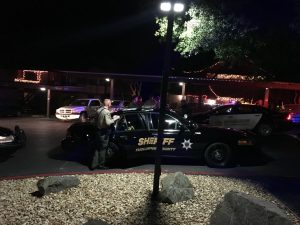 Carl Greenway arrest scene

View Photos
Sonora, CA — An assault on an elderly man turned extremely dangerous when the suspect tried to grab a deputy's gun.
A call came into Tuolumne County Sheriff's dispatch Wednesday night regarding an assault at a home on Sparrow Lane in Sonora. Deputies arrived to find the elderly victim with minor injuries and alleging that 31-year-old Carl Greenway of Sonora had attacked him and took off with his cell phone preventing the man from calling for help.
Deputies discovered Greenway in a nearby apartment and began questioning him. According to sheriff's officials, when deputies tried to arrest Greenway, he ran toward the back of the apartment. He was caught in a narrow hallway where Greenway began to wrestle with two deputies and punched one of them in the face. Greenway then attempted to grab one of the deputy's guns from its holster. Sgt. Andrea Benson details what happened next, "Thankfully the deputies were able to get him under control and prevent the gun from being removed from the holster, but when you're fighting with somebody who does not want to go into custody anything can happen. Luckily everybody was safe and was able to walk away from this situation."
Sgt. Benson adds that Greenway even tried to wrestle and escape on the way to the patrol car and was physically restrained for a second time. He was arrested for physical elder abuse, resisting arrest with violence, attempting to take a firearm from a deputy obstructing the use of a cell phone when the victim's intent was to summon the sheriff's office for help, and for violating his probation.