Local Hospital Operator Plans Merger, New Nonprofit Health System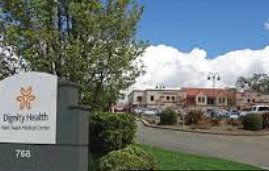 Mark Twain Medical Center

View Photos
San Andreas, CA — Mark Twain Medical Center officials have announced that Dignity Health has signed an agreement to form a new Catholic health system with Catholic Health Initiatives (CHI).
As for how this move might impact the pending decision of Mark Twain Health Care District (MTHCD) to either sign a new lease with Dignity — with whom it is still negotiating or choose to run the hospital independently, as reported here — remains to be seen. Next week, district officials are holding two public meetings at the Calaveras County Library in San Andreas to discuss and gather input that they say will inform their final choice.
"We'll have comments about the Dignity-CHI merger at the Monday and Wednesday study sessions," shares MTHCD Executive Director Dr. Randy Smart. He adds, "We expect the terms of the current negotiations to be made public at those meetings. I can't speculate about what decision the board will make, and they won't individually know until they hear more public comment."
Leaders Share New System's Projected Priorities
In a joint statement, Dignity and CHI chief executives describe that their definitive agreement combines ministries, is focused on creating healthier communities and will preserve and expand access to quality care at facilities in communities across 28 states.
According to CHI CEO Kevin Lofton, the new system will be positioned to accelerate the change from sick-care to well-care across the United States. "Our new organization will have the talent, depth, breadth, and passion to improve the health of every person and community we serve," he states. "By combining our ministries and building upon our shared mission, we will expand our commitment to meeting the needs of all people with compassion, regardless of income, ethnicity, or language," Dignity Health President/CEO Lloyd Dean adds, additionally calling the merger an incredible opportunity to expand each organization's best practices in response to the evolving health care environment in order to deliver high-quality, cost-effective care.
Per the official announcement, key strategic and reinvestment priorities for the new system are lined out as follows:
• The expansion of community-based care, offering access to services in a variety of outpatient and virtual care settings closer to home;
• Clinical programs focused on special populations and those suffering from chronic illnesses to keep people and communities healthier for longer; and
• Further advancement of digital technologies and innovations like stroke robots and Google Glass, which create a more personalized and efficient care experience.
Other Noteworthy Details
The new health system will include more than 700 care sites; 139 hospitals; approximately 159,000 employees and more than 25,000 physicians and other advanced practice clinicians. It will be led by an office of the CEO with Dean and Lofton both serving as side-by-side CEOs, each with specific and independent responsibilities and decision-making authority. Together with their executive team they will jointly oversee strategy and integration planning. They indicate that Lofton will have authority for mission, advocacy, sponsorship and governance, system partnerships, and information technology while Dean will lead all of operations, including clinical, financial, and human resources.
Both leaders say the organization will continue a commitment to supporting communities through charity care, grants, and loans, which, in fiscal year 2017 collectively provided approximately $4.7 billion in charity care, community benefit, and unpaid cost of government programs. The new system seeks to become a national platform for innovation and research. Dignity Health's Board of Directors and Sponsorship Council and CHI's Board of Stewardship Trustees have approved the deal, which is anticipated to close in the second half of 2018 and is subject to federal, state, and church approvals. Plans are to establish corporate headquarters in Chicago and a new, still to be chosen name. Local facilities will continue operating under their current names.