Cold Temperatures Next Week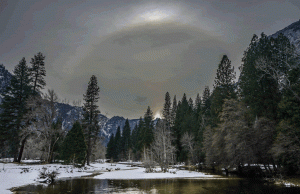 Winter Weather In Yosemite

View Photos
A weak storm system will move across the region tonight bringing both rain and mountain snow into early Sunday.
Snow levels will start out below major pass levels this evening in the Sierra Nevada and lower down to around 4,000 feet by late tonight. Locally, snow levels may become lower.
Snowfall totals will range from two to four inches above the 5,000 foot elevation.
Wind gusts of fifty mph are expected over the crest of the Sierra Nevada.
Rainfall totals will be under a quarter inch in the Northern San Joaquin Valley and up to half inch in the Mother Lode.
Slick roads can be expected. Motorists traveling into the mountains should be prepared for winter weather conditions at times.
Expect improving conditions during the day on Sunday, followed by breezy to locally windy conditions by Monday.
According to the National Weather Service, temperatures will be falling into the thirties in the Central Valley each night next week. The coldest mornings are expected on Tuesday and Wednesday when some locations may experience freezing temperatures. Mountain valley lows will be mainly in the teens.