High Speed Motorcycle Chase In Sonora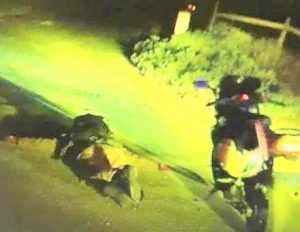 Arrest scene of Joel Thomas Perkins

View Photos
Sonora, CA – After reaching speeds of up to 90 mph with a Sonora Police Officer giving chase, a motorcycle rider unexpectedly stopped prompting a search that revealed drugs.
While on patrol an officer spotted a motorcycle driving erratically and speeding on the Sanguinetti Loop Friday night just before 11 p.m. When the officer tried to pull the bike over, its driver hit the gas and took off.
The pursuit turned onto Tuolumne Road with the motorcycle topping around 90 mph and swerving repeatedly into the oncoming traffic lane. Once at the intersection of Yosemite Road and Hershey Road East, the driver, 30-year-old Joel Thomas Perkins of Tuolumne, suddenly stopped and gave himself up without incident.
A search of Perkins uncovered five grams of black tar heroin along with a hypodermic needle. He was also found to have a suspended license, and the bike's registration was expired and suspended by the DMV. A records check found Perkins had numerous misdemeanor arrest warrants. He now also faces charges of felony evading, possession of controlled substance and paraphernalia. Perkin's bail is set at $50,000.