Public Weighs In On Future Of Sonora Dome Building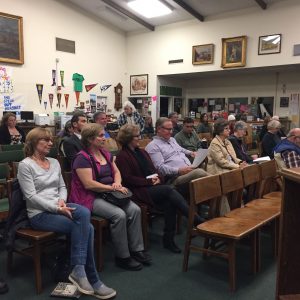 Dome Workshop at the Sonora High's library
Sonora, CA — Sonora High's District Board of Trustee have been grappling with what to do with the district-owned historic Dome building and turned to the public for possible options at a workshop Thursday night.
Nearly 40 people were in attendance. Some voiced concerns regarding preserving the landmark while others gave suggestions regarding potential uses, including a museum, office space, or a shopping center. Kurt Johnson with Love Out Hunger and Operation Reach expressed an interest in turning the building into a community care center including an adult daycare by possibly leasing the property for a dollar a month along with them paying for renovations of the building and maintenance costs, stating, "We would not be interested in purchase. We would be interested in a long-term lease, which would give the ability to control what happens with the property, long-term as far as aesthetics…So we would like to talk to the board more about it. We're very interested."
However, there were no detailed plans or concrete proposals offered for the board to consider.  As reported here, a citizens' advisory council was set up earlier this year and made a nonbinding recommendation to the board to declare the property as surplus and parcel it off for potential sale. Regarding that option, Chair of the Tuolumne Heritage Committee, Sharon Marovich requested, "Our committee would ask that you cast a wide net for potential buyers with practical reuse ideas. At the same time, the board should be diligently pursuing all options that will make the dome a contributing asset to 21st century Sonora either through its own means, partnering with others or finding a buyer with the vision and funds to bring this magnificent building back to life."
The Tuolumne County Arts Alliance office and academy is housed on the property. One option could be to donate the property to the group. Its new Executive Director, Lisette Sweetland urged the board to preserve the landmark, "I want to impart to you that this is more than just a building, and surplus buildings, that can be used for storage…The dome itself can be a beacon for everyone. If we get rid of the dome or whatever we decide to do with it, who's to say that the Red Church isn't next or the courthouse…There is a precedent set and we need to be cautious of that."
Board Trustee Rob Lyons countered, "I don't see it as Sonora High's responsibility to do that. We don't have the ability to do that. We don't have the funds to do that. It's not our intention to try to make money on this at all. It would also be my intention not to sell it or donate it to somebody that could then turn around and make money and then tear it down. So, that's a dilemma we face."
The board raised other selling sticking points including a lack of parking and ADA compliance. Board President Kathy Ankrom suggested what the board's next step could be, "One of the problems for us is that we're just speculating about who may come forward and what may happen. What their interest may be and I don't think we'll really know for sure until we put it out there. There is this process where it first goes out to public entities and then we throw our net out wider and wider."
The board went into closed session after the workshop only to discuss its options but making no decision on how to proceed just yet.