Traffic Stop Hits Pay Dirt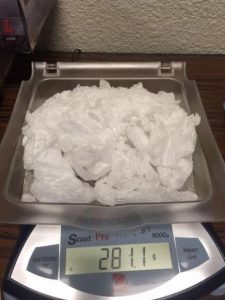 Drugs found in bust

View Photos
Jamestown, CA – Take a look at the picture in the image box as it shows the score a CHP officer made when he pulled over a vehicle for equipment failure in Jamestown.
On the scale is over a half pound of methamphetamine, which was found in the vehicle along with19 grams of heroin and packaging materials. On Wednesday morning, the officer spied a light not working on a vehicle traveling down Highway 108 and initiated a traffic stop at Chicken Ranch Road. Behind the wheel was 31-year-old Tanya Monk of Modesto who is on parole.  In the front passenger seat was 53-year-old Bart Hughes of Oakdale who is on post release community supervision.
Further investigation prompted the officer to call for back up from the Tuolumne County Sheriff's Narcotics Team. Once on the scene, team members uncovered the huge drug haul. The pair was taken into custody on charges of possession, sales, and transportation of methamphetamine and heroin.