Latest Storms Delay Final Steps Of Hwy 120 Bridge Renovation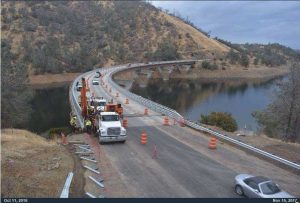 James E Roberts Bridge Nov 15 2017 during the last few days of renovations

View Photos
Sonora, CA — Those anticipating the full re-opening of the Highway 120 James E Roberts Bridge by Lake Don Pedro to arrive just ahead of their Thanksgiving turkey dinner might instead get it as an early Christmas gift.
Caltrans officials say motorists should expect the 24/7 one-way traffic controls and ten-minute waits on both sides of the span to continue until Dec. 15 or thereabouts, which is about a two-week setback.
While the project was supposed to wrap ahead of the Thanksgiving holiday weekend, Caltrans District 10 spokesperson Warren Alford says the last step of the year-plus-long, nearly $21 million renovation, which is the installation of a final lightweight flexible surface paving, needs to be done in dry, nonfreezing weather. Plans are to attend to this leftover chore after Thanksgiving.
As of this week, Alford shares, "All of the K-railing has been removed…Tuesday, and now we are waiting the weather to cooperate so we can do the polyester overlay." Although original plans were to completely close the bridge and re-route traffic during this process, Alford says that crews will instead do one lane and then the other with the current, one-way traffic controls remaining in place. The fancy new surfacing will eliminate the bumps travelers are now experiencing as they drive over the new bridge deck panels, according to Alford.
The bridge, part of a gateway passage to Yosemite, is also a critical route for the communities of Moccasin, Groveland and Buck Meadows. It is expected that the retrofitting will enable the bridge to provide another 40 to 50 years of service.