Police, Deputies, K9 Unit Apprehend Knife-wielding Suspect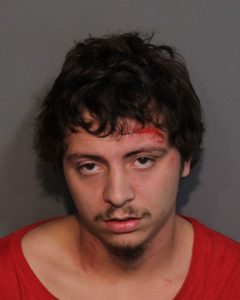 J Carroll Troche AC Police Booking Photo

View Photos
Angels Camp, CA — A Jamestown man who allegedly initiated a perilous domestic violence incident was jailed on multiple charges following a multi-unit foot chase.
According to Angels Camp Police Chief Todd Fordahl, it was just before midnight Saturday when his office was called to intervene as 20-year-old J. Carroll Troche, in violation of a restraining order, entered a home located on the 600 block of Stanislaus Avenue, threatening the victim and others present while brandishing a knife. The victim was treated on scene for minor injuries that occurred during an altercation Troche fled by escaping through a bedroom window.
Responding Calaveras County Sheriff's Office deputies were able to search and visually locate Troche near San Joaquin Avenue and the gated entrance to Big Horn Mobile Home Park. As he ran into the park, officers lost sight of him but initiated a K9 track, which led into the open field by Altaville Post Office and tracked back towards the apartment complex.
It was reportedly back at the residence — as Troche reentered it through the same window he earlier used to make his exit — where he was taken into custody after a brief struggle and while continuing to threaten the victim and witnesses in the presence of officers.
Once at the Calaveras County Jail, staff located a bag containing two grams of marijuana in Troche's pocket while searching him, which was added to his booking charges of assault with a deadly weapon; domestic violence; violating a protective order resulting in injury; threatening with a weapon; making criminal threats; resisting a peace officer.