Road Repair Material Sharing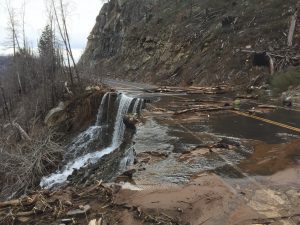 Cottonwood Road Damage

View Photos
Sonora, CA – Tuolumne County and the Stanislaus National Forest are combing their reconstruction efforts on two roadways ravaged by last year's wicked winter storms.
Paying for both the forest's Cottonwood Road and county's Buchanan Road repairs is the Federal Highway Administration (FHWA) under the Emergency Relief for Federally Owned Roads program. The administration has hired Redding based; S.T. Rhoades Construction, Inc., for both jobs that are in close proximity. Forest spokesperson Diana Fredlund explains, "They are using material that they are excavating from Buchanan Road and they are going to be coming and laying that material for Cottonwood so they can rebuild the road itself. There actually taking the dirt from Buchanan and relaying the road bed for Cottonwood. So, it worked out pretty conveniently."
Work on the $26-million dollar Buchanan Road county project began last month between Carter Street, the bridge and Fish Hatchery Road, with further details reported here. It is expected to be finished by the fall of 2018. Reconstruction started Tuesday on Cottonwood Road (Forest Route 1N040), which is closed between milepost 20.26 (intersection with FR 2N14) and milepost 21.36 (intersection with FR 3N01N). For a map, click here Cottonwood Road repairs. Fredlund notes that weather permitting the repairs are slated to be completed by Dec. 15. She adds that the roadway is not maintained for winter travel and access to the entire roadway will be limited until the spring.