Update: Mountain Passes Road Conditions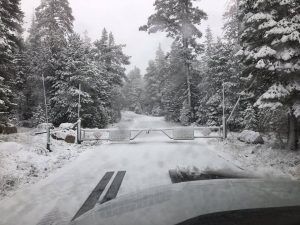 Camp Connell Maintenance Supervisor Mike Johnson's windshield view at the Lake Alpine gate on Saturday, November 4, 2017

View Photos
Update at 4:14 p.m.: Caltrans officials say due to continuing icy conditions along shaded portions of Highway 4, Ebbetts Pass will remain closed through the next bout of wet weather on track to move through the Mother Lode through Friday.
Plans are to keep Highway 108 Sonora Pass, which opened this morning, passable as long as possible, weather-permitting. Once the precipitation passes, Caltrans District 10 spokesperson Warren Alford says crews will be making assessments as to when both passes might reopen.
He also cautions, "We are at that time of the year when we are really telling people, 'hey, put your chains in the car…be prepared for winter driving conditions.' We also ask people to carry some blankets, food, water — all the things you might need in case you get stuck somewhere."
Original Post at 1:41 p.m.: Sonora, CA – Road crews have been able to clear away snow and debris on two of the passes but ice is keeping one closed.
Caltrans was been able to raise the gate on Highway 108 Sonora Pass at 11 a.m. today (Tuesday). However, Highway 4 Ebbetts Pass' gate remains down due to thick slick icy patches along the roadway. Caltrans officials expect to keep it shut down until after the next series of storms passes through.  Maintenance crews report that they will try to keep Sonora Pass open as long as possible until the next storm and while conditions remain safe.
Yosemite National Park officials report Highway 120 Tioga Pass is currently open, but there is no word if there are plans to close it with the forecast of more wet weather approaching the Sierra Nevada Mountains this week.
Road conditions can be found at any time by going to the myMotherlode.com homepage and clicking on traffic.