Day Of Remembrance Declared For 'Deadliest Mass Murder In Modern History'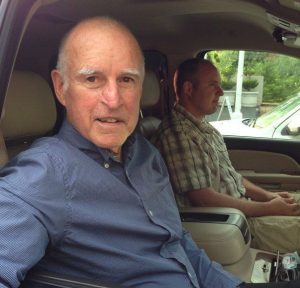 Governor Brown at the Mother Lode Fair: Photo taken by: Tracey Petersen

View Photos
Sacramento, CA — Flags at the State Capitol are at half-staff today commemorating Governor Jerry Brown's release of a proclamation declaring Nov. 1 a Day Of Remembrance honoring those slain and who survived the recent mass shooting in Las Vegas.
As he points out, today is the one-month anniversary of the grim event now considered the deadliest mass murder in modern history. He also notes that of the 58 who died, 33 were Californians. Text from the Governor's proclamation follows below…
On Oct. 1 in Las Vegas, 22,000 people, including many from California, gathered to celebrate their love for music at the Route 91 Harvest Festival. For reasons we may never know, a depraved gunman chose to commit the deadliest act of mass murder in modern American history. Over the course of ten terrifying minutes this man was able to shoot or cause related injuries to more than 600 people, 58 of whom would die from their wounds.
I do not write today to repeat the murderer's name nor to speculate about what caused someone to enact such a fiendish plan. Today, let us instead remember the 36 women and 22 men who died on that awful night; men and women whose only intent was to enjoy a peaceful evening of entertainment. The majority of the slain, 23 women and 10 men, were fellow Californians. Their numbers included parents, grandparents, teachers, a veteran and two employees of law enforcement. The youngest three victims were just 20 years old and the eldest was 67.
The loss of each of these innocent people has created a hole in the heart of humanity, a void in a family and community that can never truly be filled. We remember them with great sadness, but also for the light that they brought to the world.
We also honor the hundreds of survivors, many of whom will endure years of physical and emotional hardship as a result of this senseless tragedy, and the brave first responders whose swift action saved many lives.