TC Supervisors Fast Track Road Repair And Personnel Matter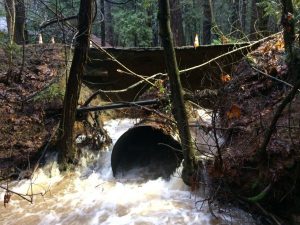 Kewin Mill Road Damage

View Photos
Sonora, CA — Last week's abrupt firing of the newly hired Behavioral Health Director, along with wet weather that could impact a damaged road and restrict travel for residents, prompted swift action at a Tuolumne County Supervisors special meeting today.
The board approved construction plans to repair storm damaged Kewin Mill Road and request that work bids be submitted by November 16. The repairs consist of installing two 72 inch diameter culvert pipes and replacing the roadway. The board also voted to amend an existing contract with Sierra Mountain Construction for three months at a cost of $16,112. That will allow a temporary bridge to be installed and later removed after the winter season.
The total cost for the bridge repair is $84,620.69. A concerned citizen questioned how the county would pay for the work if funds from the Federal Emergency Management Agency (FEMA) do not come through, to which District 5 Karl Rodefer replied, "I don't think we have much choice whether FEMA comes on board or not. This has to get done and we have to find a way to do it." It was also pointed out that the bridge is the only way in and out of the area for more than a thousand residents.
Turning to personnel matters, the board voted unanimously to re-appoint Steve Boyack as the Acting Director of Behavioral Health Services, following last week's firing of Dr. Eric Emery who had only been on the job a week. District 2 Supervisor Randy Hanvelt shaking his head stated, "This isn't Halloween, this is Groundhog Day. This is déjà vu. I think I've done this before."