Halloween Events And More Activities This Weekend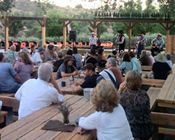 Hurst Chuckwagon

View Photos
The Motherlode continues to celebrate fall and Halloween, here are details about many of the activities hosted locally.
"Realms of Darkness" the Hi 4-H teen program fundraiser is holding its Haunted House opening night, tonight October 19th. There will be eight evening performances in The Red Barn at Sonora Lumber, 730 South Washington Street in Sonora. Evening performances are dark and not recommended for young children, but a special matinee for families and children is held Saturday from 3-5:00 PM with the lights on. More details and ticket costs are here.
Another Halloween event this Saturday combines a free hot dog dinner and Halloween activities at the Sonora United Methodist Church. Also Saturday from 4-5:30 PM, Downtown Sonora invites all the little ghosts and goblins to Trick or Treat, with an adult at participating merchants. Participating businesses will have a large orange poster in their windows.
At Railtown 1897 State Historic Park in addition to the "Harvest Haunt" train rides with this week's theme Pirates & Princesses, the "Tales of the Roundhouse" will offer a tour of the historic park after dark while listening to railroad-related ghost stories. Evening visitors will also enjoy going behind-the-scenes with special access to the historic Roundhouse, machine shop, and blacksmith shop. Ticket details are here. You can also learn more about the Sierra Railroad at New Meones Visitors Center Saturday morning, details are here.
Saturday the Farms of Tuolumne County are holding their Pumpkin & Zucchini Weigh-In in conjunction with the Hurst Ranch Fall Festival which will have music, train and hay rides, a hay bale maze, petting zoo, and a free pumpkin for everyone. Hurst Ranch's Fall Festival is also next Saturday, ticket and contest entry form details are here. Later, Saturday's "Evening at the Barn" also at Hurst Ranch, will raise money for Habitat for Humanity. This is Habitat for Humanity's big House Party fundraiser and it will feature live and silent auctions, music, a bar and dinner. Ticket details are here.
Harvest Days also continue at Indigeny every Saturday in October with hay rides, outdoor games, a corn maze, face painting, local food and vendors. More details are here.
Saturday evening you can also join a potluck and dance the night away at the Sonora Community Contra Dance.
Catch students at the ongoing post season girls basketball tournament at Curtis Creek Elementary School. Details are here. Saturday you can also bring kids to the Craft Classes for Kids! event at the Farmory in Columbia. If golf is your game, Saturday Dance Quarter is hosting its 1st annual Golf Tournament Fundraiser for the 36 dancers on their team who want to enter dance competitions. Details are here.
Starting tomorrow at Ironstone Vineyard in Murphys the Independence Hall Quilters display their art at the 40th Anniversary Quilt Faire. Details are here.
In theater shows, the Glass Menagerie will be performed at Sierra Repertory Theatre this weekend and Last of the Red Hot Lovers will be performed at Murphys Creek Theater.