Robbery Reported At West Point Marijuana Grow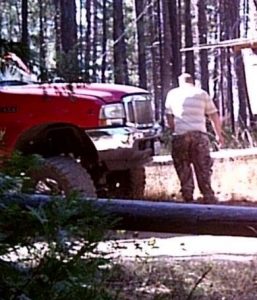 Suspect vehicle in marijuana grow robbery

View Photos
West Point, CA — The Calaveras County Sheriff's Office is investigating a robbery reported at a marijuana grow on Skull Flat Road in West Point.
The victims stated that two vehicles pulled up with 5-6 people claiming to be law enforcement. Three of which were armed with guns.
Two of the four victims were tied up by the robbers. The suspects got away with approximately 500 marijuana plants, a large amount of cash, and a black Ford F250 pickup truck with the license plate number 8D04533. An investigation into the incident is ongoing. The vehicles the robbers arrived in are described as being a silver sport utility and a red truck.
The sheriff's department adds, "Calaveras County Sheriff's Office deputies have identifiable uniforms including badge and shoulder patches. Deputies assigned to plain clothes assignments carry their department issued badge and identification cards. If you feel you are being contacted by someone pretending to be a member of the sheriff's office, you can ask to see their department issued ID or call 911 to ensure the subject is in fact a deputy sheriff or a peace officer from another department."
Anyone with information regarding the robbery should call the sheriff's office at (209) 754-6500 and ask for detectives or call the anonymous tip line at (209) 754-6030.