Update: Stanislaus National Forest Fire Weather Watch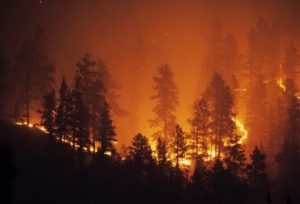 Forest fire

View Photos
The National Weather Service has issued a Fire Weather Watch for the Stanislaus National Forest, which is in effect from late Friday night through Sunday morning.
A stronger wind event will impact the area late Friday night into Sunday. The strongest winds winds look to occur late Friday night and Saturday. Winds for the Central Valley will taper off Saturday night, but increase once again for many mountain and foothill areas before tapering off on Sunday. The most critical areas of concern, where the strongest winds are expected, will be across exposed ridges and through wind-aligned drainages.
Winds of fifteen to thirty mph are likely with gusts ranging from thirty-five to forty-five mph.
Poor overnight humidity recovery is forecast aslow as twenty-five to thirty-five percent, with daytime estimates of ten to fifteen percent on Saturday.
Any fires that develop will likely spread rapidly. Outdoor burning is not recommended.
A Fire Weather Watch means that critical fire weather conditions are forecast to occur. Listen for later forecasts and possible Red Flag Warnings.