Kids Help Seed Their Own Healthier Food Choices In SNAP-Ed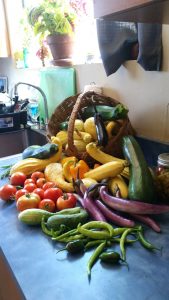 SNAP-Ed TYC Dept of Rec partnership warm-season vegetable harvest

View Photos
Sonora, CA – Hands on learning opportunities are literally growing in local kid-geared educational gardens funded through USDA-funded programs targeting healthier eating.
After a busy summer and harvest, Tuolumne County Public Health's SNAP-Ed (Supplemental Nutrition Assistance Education Program) Coordinator Elizabeth Ramos shares that gardens in her program, located at local elementary schools and youth centers, are now busily engaging in fall garden prep and planting activities.
The SNAP-Ed program partners with several entities. Through Tuolumne Youth Center and Tuolumne County Parks and Rec, Ramos purchases seeds and seedlings that local youth and adult volunteers help plant and tend.
Other gardens located at Jamestown and Chinese Camp elementary schools are a joint effort between her office and the school district. Another plot at the Jamestown Youth Center also involves the nearby ATCAA Early Head Start program. Two more gardens involving Head Start programs are located at the Bluebell facility in Sonora as well as in Soulsbyville. (Click into the image box slideshow to view several garden and crop photos.)
Eggplant Bumper Crop = Yummy Dip Sampling
Over the summer Ramos' office and volunteers helped tend to new gardens that returning students helped harvest soon after school returned to session. Recounting the yields, she recalls "lots of eggplant," which were sampled to the public and to some of the youth centers in the form of "a really great eggplant and roasted red pepper dip recipe" (shared at the end of this story). Along with that bumper crop came, as she describes it, "Tomatoes galore, zucchini — the largest than I have seen in my life — cucumbers and peppers."
Through the winter garden programs SNAP-Ed will be able to help introduce local kids to produce best suited to the Mother Lode's grow zones and microclimates. So, for example, in Jamestown and Chinese Camp, gardening efforts are focusing on starting cabbage, broccoli and beans in a little greenhouse that will later be transferred to raised beds. Plans are to propagate those crops as well as lettuce and spinach at the Jamestown and Tuolumne youth centers. Ramos is also hoping to shortly kickoff a new plot in partnership with the Groveland Youth Center.
In tandem with all the gardening comes in-class education, Ramos emphasizes. "When the kids are planting their own vegetables they are more interested in tasting new things," she explains. Always looking for intriguing ways to engage youth, she shares that since the Chinese Camp school mascot is the dragon, the students there will be getting dragonfruit plants to grow, tend to and try. "We have had great success, especially when some of [the kids'] peers…are already eating some of the more 'icky" veggies at home — they can influence their friends to try and perhaps like them," she laughs.
Another key is, according to Ramos, is making sure the sampling experience is a positive one. So, she says, "Anytime we do a sampling we send the kids home with a recipe so that they can hopefully get their parents to make it for them at home — and I have had kids come back and tell me that their family made the recipe and loved it."
Eat (More Of) This, Not (Often) This
Educators like Ramos say these kinds of introductions can grow a greater interest and desire to embrace "new," healthier foods and perhaps also impact kids' eating choices. "Parents tell me on the occasion that they go to fast food that the child is ordering the healthier option that comes with a meal, so instead of French fries they might get the apples," she recounts with a twinkle. These kinds of behaviors reinforce SNAP-Ed program teachings about choosing to eat "Whoa Foods" in limited quantities and enjoying "Go Foods" — aka healthy proteins and produce — as "go to" snacks and meal options and even asking their parents to serve them more "Go Foods."
With the incidence of childhood diabetes still on the rise in California, where nearly a third of kids are obese or overweight, Ramos says her program specifically targets ways and means to help children, particularly before they hit sixth grade, as well as others to make healthier selections. "When you can connect kids to growing their own food they are more open to trying different fruits and vegetables and making them a regular part of their diet," she says, matter of factly. "If you can partially increase the latter, the healthier you are going to tend to be if you are also exercising, drinking enough water and reducing unhealthy fats," she adds.
The SNAP-Ed program, which is working to expand its offerings, hopes to further connect with local farmers and already coordinates with the Food Bank in educational outreach. "We try to teach people that the healthiest place in the market is in the perimeter…the produce, daily, meat, poultry and fish departments — it is when you go down the center aisles that you start seeing more of the junk foods and the end-aisles there they try to sell you some of the junk foods that are supposedly on sale," she confides.
Ramos hopes local parents will be heartened enough by the SNAP-Ed programs going on to get their kids involved in the local youth center garden-related activities, if they are not already, and to look for nutrition education in the schools. "If it is not already there, talk with the principal and see if you can get it in your child's class," she suggests.
If the prospect of growing your own produce sounds interesting, Ramos points out, "There is an abundance of online information available to learn what to grow in your zone this time of year – and you can always grow in a container." When building raised beds she advises that using some hardware cloth goes a long way in discouraging varmints. Throwing out a few planting ideas, she shares, "Kale and lettuce would be easy to do. Radishes are really easy — and carrots pretty easy…for Jamestown, Tuolumne and Chinese Camp in the fall."
(Kid-Approved!) Recipe for Eggplant and Roasted Red Pepper Dip
Ingredients
1 eggplant
2 red peppers
1 onion (small)
1/4 teaspoon garlic powder
2 tablespoons vegetable oil
1 teaspoon oregano
1 teaspoon basil
1/4 teaspoon salt
Directions: Use a vegetable peeler to remove the peel from the eggplant then chop the eggplant into one-inch cubes. Chop the red peppers and peel and chop the onion.
Place all the ingredients in a large bowl and stir together. Spread them on a baking tray and bake at 400 degrees for 45 minutes. While baking, stir the vegetables a few times.
Take the tray out of the oven when the eggplant is lightly browned and let it cool for at least ten minutes. Then place it in a blender and blend until smooth.
The dip may be served cold or at room temperature. It is a low-fat dip that goes well with cut vegetables, on toast or as a spread on sandwiches.