Update: Gov. Declares Emergency For Deadly Northern California Fires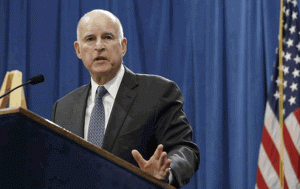 Governor Jerry Brown

View Photos
Update at 4:36 p.m.: Gov. Jerry Brown has issued another emergency proclamation; this one for Butte, Lake, Mendocino, Nevada and Orange counties due to devastating effects of multiple fires ravaging these areas.
Among the fires noted are the Cherokee, LaPorte, Sulphur, Potter, Cascade, Lobo and Canyon fire incidents, which have damaged critical infrastructure and generated evacuations. He has now additionally requested a Presidential Major Disaster Declaration to support state and local response efforts to wildfires ravaging parts of Northern California that he addressed in an emergency proclamation issued earlier today for Napa, Sonoma and Yuba counties. The total of fatalities confirmed today is now ten; with seven more people reported dead in the five o'clock hour in addition to three earlier reported today.
Original Post at 1:43 p.m.: Sacramento, CA – The state's top fire officials are signaling more fatality reports are anticipated due to over a dozen fast-moving Northern California wildfires.
Gov. Jerry Brown declared a state of emergency in Napa, Sonoma and Yuba counties due to multiple wildfires that currently have thousands of homes under threat. CAL Fire is so far confirming one death and serious injuries to at least two people in Mendocino County, one of several counties struggling in high wind conditions to contain several major fires burning out of control. In Mendocino County the Redwood Complex Fire – formerly the Potter and Redwood incidents — now combined, measure 10,000 acres, burning north of Highway 20, west of the Mendocino National Forest, which triggered evacuations in Potter Valley, Redwood Valley and Golden Rule to evacuation centers in Ukiah and Willits.
So far CAL Fire officials say the Northern California fires are estimated to have destroyed more than 1,500 homes, department stores, hotels and other commercial structures as firefighters must prioritize on evacuating residents and saving lives. According to CAL Fire Director Ken Pimlott current fire conditions are making it difficult to yet accurately assess damage, injuries and casualties. While he notes that October is typically the most dangerous month for California fires so far this year there have been 1,500 more wildfires than last year at this time.
Currently, the two largest Northern California incidents are the Tubbs Fire, currently at 25,000 acres, located off Highway 128 and Bennet Lane in Calistoga; and the Atlas Fire, roughly the same size, located off Atlas Peak Road south of Lake Berryessa for which there have been numerous new evacuations ordered. Other Napa/Sonoma fires include the Nuns Fire, reported to be about 5,000 acres on Highway 12 north of Glen Ellen; also the Patrick Fire, a 3,000-acre incident, which ignited west of Napa off Patrick Road. The Cascade Fire, off Maryville and Loma Rica roads in Yuba County at 7,200 acres is described as five percent contained while the Cherokee Fire in Oroville in Butte County is 7,500 acres with 20 percent containment.
CHP officials report numerous road closures within an eight-county swath of wine country north of San Francisco.
Late this morning a Santa Ana winds driven wildfire ignited, spreading by the noon hour to homes in a Southern California subdivision located in the Anaheim hills of eastern Orange County as evacuations were ordered for neighborhoods and two elementary schools.