Update: Fire Ignites Near Murphys Grade Road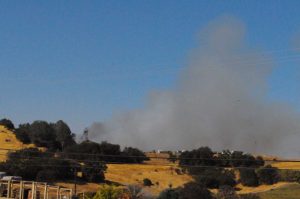 Murphys Grade Road Fire

View Photos
Update at 5:06pm: The vegetation fire burning off Murphys Grade road, still held at 33 acres, is now 50 percent contained, say CAL Fire officials. The cause remains under investigation.
Update at 2:05pm: Ground resources continue to gain containment on a vegetation fire off Murphys Grade Road near Rolleri Ranch road.
CAL fire officials estimate the blaze is at 30 percent containment at 33 acres.
Thank you to our community news partners Bob Bliss and Nell Harris. Send photos and images to news@clarkebroadcasting.com.
Update at 12:15pm: CAL Fire reports that the forward rate of spread has been stopped on the vegetation fire burning along Murphys Grade Road. It is estimated to be just over 30 acres in size. Fire crews will remain on scene throughout the afternoon.
Update at 11:27am: CAL Fire spokesperson Lindy Shoff reports that the fire near Murphys Grade Road is now estimated to be 15-20 acres.
Original story posted at 11:20am: Murphys, CA — Officials are responding to a fire reported in the area of Murphys Grade Road near Rolleri Ranch Road.
The fire is estimated to be around five acres. Access is a challenge, as it is burning in a rugged area. Air and ground resources are assigned. We'll keep you updated as more information comes into the news center.