Meet The Sonora High Wildcats Athletic Hall Of Fame Class Of 2017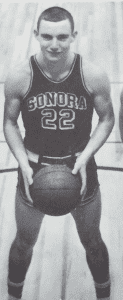 Sonora High Wildcats Athletic Hall of Fame 2017 Don Moore

View Photos
Sonora, CA — A dozen former Wildcats who graduated between 1950 and 2008 are among this year's Sonora High School Athletic Hall of Fame inductees.
In describing this year's class of honorees, former Sonora high Athletic Director and Hall of Fame Committee Chair Rick Francis, himself a Hall of Famer, notes they cover a nearly 70-year span of Wildcat sports and represent some of the best athletes to hail from the Mother Lode.
Here is a rundown of these latest awardees, who will be receiving their awards at an open-to-the-public dinner and ceremony in a few weeks (to view archival photos of these athletes, click into the image box and hit the slideshow link)…
Howard "Socky" Keefe, Class of 1950
Socky lettered in football, basketball, baseball, swimming and track and received the Fred Rowe Award as the Outstanding Male Athlete of his class. Drafted by the Baltimore Orioles for their farm division and for military service he returned from the Korean War to play local baseball and softball fast pitch for the Outlaws, Coca-Cola Cubs and Westside.
Dennis Jackson, Class of 1959
An outstanding football, wrestling and track athlete, Dennis played running back on the Wildcats football team that, during his senior year, won the league championship and he was selected to play in the Elks North-South All Star game. A record holder in the 180-yard low hurdles he qualified for the state track meet in the 440-yard dash. He then played two years of football and ran track for the Monterey Junior College before playing for University of Oregon and San Francisco State University.
Don Moore, Class of 1961
Lettering in tennis, football, and basketball, Don was selected to the 2nd team all-central Cal football team and 1st team VOL as a receiver while a junior. In basketball he was selected 1st team VOL, was the leading scorer in league play and went on to play at Modesto Junior College and at the University of California, Davis. After an Air Force stint, he became a 33-year educator, teaching and coaching at Soulsbyville and Twain Harte schools and was principal at Twain Harte and Tenaya schools.
Cam Fray, Class of 1967/Coach
During his Wildcat years Cam was an outstanding football and baseball player. Among his honors he was named the 1966 Mountain Valley Conference Defensive Lineman of the Year. A two-year starting catcher, he led the baseball team in batting with a 326 average. In 1971, he began a two-decade coaching career at Sonora High, coaching football, girls' basketball and baseball and was part of the coaching staff that won six VOL titles.
Jon Wagner, Class of 1978
A football player and wrestler, Jon was All VOL 1st team in football, team captain, and made the Lions All Star football team. He also received the Fred Rowe Outstanding Male Athlete for his class. Among his wrestling career highlights, he earned a combined record of 115-15 in dual meets along with section, individual and freestyle tournaments and was VOL Champion for his weight class. Invited to the USA Olympic Training Camp in 1978, he wrestled for Arizona Western College where he was an Academic All American.
Mark McCollough, Class of 1979
A two-year varsity letterman baseball and football, Mark is considered by many to be one of the finest running backs to ever wear the green and gold. In his senior year he ran for over 1,600 yards – 276 yards during one game. The leading rusher in the state in 1979, Mark was selected the VOL Most Valuable Offensive Player in his senior season and also tapped for the All Northern California Team before going on to play at Butte College.
Becky Fray Aguilar, Class of 1984
A three-sport athlete, Becky excelled in volleyball, basketball and softball. In volleyball and basketball she made 1st team VOL junior and senior years and was selected the Sonora Kiwanis Basketball Tournament MVP. In softball, Becky was a four-year varsity starter and was senior year 1st team VOL. 2nd Among other honors she received the Elks Outstanding Female Athlete of the Year for her class and earned a Kiwanis Student of the Year award in her senior year. She is now a middle-school educator in Nipomo, California.
Jodi Gardella Richey, Class of 1986
Another three-sport dynamo, Jodi, an all-league player in volleyball, basketball, and softball, captained efforts in each to help the Wildcats win several titles; among these a VOL Title in volleyball and two VOL titles and a section championship in basketball. To quote her volleyball coach Barbara Smith, "she was the real deal," going on to play college basketball and become a physical education teacher.
Lloyd Gaspar, Coach Honoree
A teacher, coach and administrator for nearly two decades, Lloyd coached boys' and girls' tennis for 12 years, winning 4 VOL championships, and also coached JV baseball. Sonora High's Athletic Director for six years, he earned the California State Athletic Director of the Year for his contributions to Sac-Joaquin Section Athletics in 1981. He co-founded the annual Sonora High Girls' Basketball Tournament, one of the longest running tournaments in the state. A high school basketball official for 37 years, he is in his 22nd year as a volleyball official.
Jessica Peterson McCornack, Class of 2003
A three-sport athlete, Jessica was selected three times in volleyball for 1st team All VOL and as a sophomore set the all-time block record with 105. As a junior she was named the VOL MVP and made the Modesto Bee All District team. In her senior year she was named the VOL Most Valuable Hitter and again named to the All Area team. A four-year varsity letter winner in basketball, she made the 2nd team her freshmen year, 1st team as a sophomore and junior, and was named MVP of the VOL her senior year. Jessica shared the Elks Outstanding Female Athlete award for the Class of 2003, was among the CIF Women of the Year and received a full scholarship to play volleyball for Fresno State University. She now teaches in St. Helena
Gary Smith, Coach
Head Varsity Football Coach for 13 years with a record of 79-59-1, Gary's teams won five VOL titles and one Section title. He also served as the Varsity Girls' Basketball Coach for 23 years, recording the most wins in Sonora High School history with 497. His teams won 14 VOL championships and 2 section championships. Gary also coached gymnastics when it was a sport in the VOL. After retiring from Sonora High, he continued coaching football and girls' basketball in the valley.
Lexi Kopf Scoles, Class of 2008
Playing girls' water polo and golf, Lexi truly excelled in the sport of soccer, where she was a four-year varsity starter making VOL All League each season and was named VOL MVP her senior year. She holds records for the most goals in her career (128) and a record 36 goals her senior year. The teams she played on won three section championships in a row. A two-time CIF 1st team award winner and three-time All District award winner, Lexi graduated with a 4.5 GPA. She received a Division 1 scholarship to UC Irvine. Named in 2011 to the All Big West 1st team and the 2012 Big West Scholar Athlete of the Year, she is now studying to become a doctor.
Francis shares that the 2017 Hall of Fame Banquet will be held at Sonora Elks Lodge on Saturday, Nov. 4. The cost is $40/person; $20 for children 12 and under. A no host bar starts at 5 p.m, followed by dinner at 6 and the awards ceremony at 7. For questions or reservations call him at 209 533-0364 or 206-1633. For more information on the Wildcats Athletic Hall of Fame and how to nominate a former Sonora High athlete to a future Hall of Fame class, click here.