Request To Limit Water Usage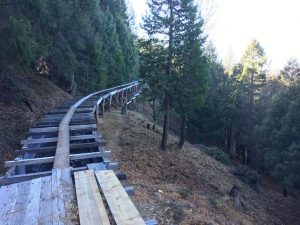 Tuolumne Main Canal - archive photo

View Photos
Sonora, CA: Tuolumne Utilities District (TUD) customers are being asked to be mindful of their water usage for a week this month.
Beginning Monday, PG&E will be shutting down its main canal that flows 95 percent of TUD's water supply to conduct regular maintenance, which will last until Monday, October 16th. The district is asking customers to limit their water use while electric company crews repair and make improvements on the canal. However, that will limit the supply for drinking, sanitary usage and fire protection as the only water available is what remains in storage tanks and from groundwater wells, according to TUD.
The water utility asks customers during the ditch outage:
Limit outside watering
Do not wash vehicles
Turn off automatic lawn and drip sprinkler timers
Repair water leaks
Additionally to allow for water storage recovery the district request that customers continue to conserve the following week.  TUD officials also relay that periodic outages related to annual maintenance will continue from October through December for irrigation/agricultural ditch customers. Click here for the complete TUD Ditch Outage schedule of where the maintenance will be taking place during those months.