California A Sanctuary State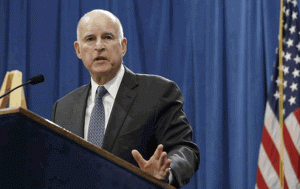 Governor Jerry Brown

View Photos
Sacramento, CA — California has become a sanctuary state with the Governor's signing of SB54, the "California Values Act."
Today Governor Jerry Brown signed into law legislation that extends protections statewide for illegal immigrants. The bill prohibits police from requesting a person's immigration status or taking part in federal immigration enforcement activities, which in most cases started Jan. 1st.
California's Democratic Senate leader Kevin de Leon introduced the bill in opposition to Presidents Donald Trump's immigration stance and push for deportations.  Thanking the Governor for his action, de Leon stated, "Californian simply will not divert its public safety assets to stalk law-abiding immigrants and undermine the safety in our communities in the process. The California Values Act will limit immigration enforcement actions at public schools, hospitals and courthouses where all California residents should feel safe, regardless of immigration status."
Voicing opposition to the legislation was California's sheriff's association arguing it would make it harder for them to protect the public. California is home to an estimated 2.3 million immigrats without legal authorization.