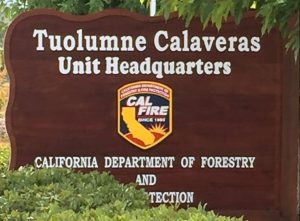 Cal Fire Tuolumne Calaveras Unit HQ sign

View Photos
Tuolumne County, CA – Teaching how to fight fire with fire that will be the main focus of a CAL Fire training day in Tuolumne County tomorrow.
The all-day exercise will take place at the Sardella Ranch on Wards Ferry Road, between Old Wards Ferry and Yosemite roads, from 10 a.m. to 5 p.m. on Thursday (Oct. 5th). Weather permitting; nearly 35 acres of grass and oak understory will be burned in one to three acre parcels to reduce the amount of smoke.
The training is designed to instruct fireline supervisors on the proper techniques to plan and conduct complex firing operations while battling fires, according to instructors, who add that students will learn how to apply fire, to fight fire. That will include learning proper ignition techniques and control of flames outside the perimeter of an approaching fire in suppression efforts.
Resources on scene will consist of four fire engines, one water tender, two fire crews, and one bulldozer.