Park Cleanup And Forest Closings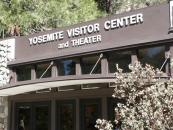 Yosemite Valley Visitor Center and Theater

View Photos
Sonora, CA — This weekend volunteers are helping to spruce up Yosemite National Park while some Stanislaus National Forest attractions will be shutting down.
Many campgrounds and day use areas on the forest will begin closing for the winter season beginning Sunday (Oct. 1st). Others will remain open for as long as it takes crews to winterize facilities over the next couple of weeks. That preparation includes shutting off water, emptying vault toilet restrooms and securing equipment. Click here for the complete list of areas that will be closing this winter.
Yosemite National Park is holding its 14th Annual Facelift that runs through Sunday (Oct. 1st). Volunteers are assisting in cleaning up trash and debris at various locations in the park, including roadways, the river corridor, trails, near climbing routes, and in parking, camping, and lodging areas, according to park officials. Last year's event collected 12,197 pounds of trash and debris thanks to the nearly 1,400 volunteers that pitched in over 11,700 hours.
Those who still want to help out can sign up until 4 p.m. today and Sunday from 8 a.m. to 1 p.m. at the Yosemite Valley Visitor Center to work at various times on that day.