As October Arrives Get Ready To 'Think Pink'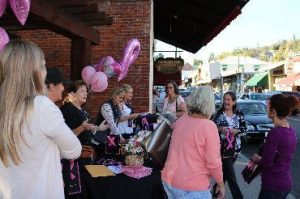 Ladies Night Out Image

View Photos
San Andreas and Sonora, CA – Already tinged with fall leaf colors and All Hallows hues of pumpkin-orange and black, October arrives this weekend ready to glow through the month in shades of pink, signaling breast cancer awareness support and related activities.
In Calaveras County, organizers hope to bathe front porches and business storefronts across its communities "Pink in the Night" to officially recognize National Breast Cancer Awareness Month; also honoring the memory of those who fought while celebrating the survivors –and to motivate women to take charge of their own health.
Setting off the campaign Monday night is a lighting ceremony scheduled at 6:30 p.m. in Valley Springs at the Terrace Center. There, free "Pink in the Night" 60-watt pink porch light bulbs will be distributed free of charge for supportive community members to install at their homes and businesses. Organizers say the information that night will include sharing the simple steps every woman can take from knowing how to do a monthly self-exam to scheduling an annual mammogram.
Again this year, youth football players and their families will be on hand for the kickoff event, which is seen as a boon to continue spreading awareness among local young families. Teams at Calaveras and Bret Harte high schools along with youth players in the county will also wear pink stickers on their helmets throughout October, signifying both solidarity and the hope for a cure.
"Mark Twain Medical Center is committed to the 'Pink in the Night' breast cancer awareness campaign," states Bob Diehl, President and CEO of MTMC. "The pink lights symbolize hope — and we know 'Pink in the Night' will continue to make a difference in people's lives. Breast cancer effects everyone – not just the patient, but also her family, friends and coworkers."
'Night Out' To Raise Awareness, Have Fun
Next Thursday, Adventist Health Sonora will host its fifth annual Ladies Night Out in downtown Sonora from 4:30 to 7 p.m. Among the events and offerings are live music, a celebration wall and memorial candle lighting, a photo booth, free maniCURES and a "bead walk," where participants can create their own "Find-A-Cure" keyring.
Participating stores and restaurants, which are staying open later than usual, will be offering freebies, special deals and also vying to win a special window display contest. Other incentives include prizes and a passport book of special deals and coupons that can be stamped at the businesses. One raffle ticket holder will win a giant gift basket worth over $400 that also contains tickets to Adventist Health Sonora's 2018 Joie de Vie Gala.
Ladies are asked to bring friends and family and enjoy a night out to celebrate life and raise awareness for women to be proactive in scheduling their recommended breast cancer screenings. Organizers emphasize that men are also more than welcome to come out. To take part, register at one of two check-in locations at Courthouse Square and above Coffill Park to pick up a passport book, "bead walk" keyring, window display contest ballot and raffle entry. Those among the first 250 to register will receive a free gift.
The following businesses are supporting the "Ladies Night Out" event: Addictions Spray Tanning & Fashion; Aloft Art Gallery; Amala Detox & Tea Lounge; Antique Attic/Feed Our Kids; Antiques Etcetera; Banyan Tree; BeDazzled; Bridal Loft; Candy Vault; Diamondback Grill; Downtown Shoes; Emberz; Funky Junk; Heel to Toe; Hot Shotz; It's Yo Good; Joan's Boutique; Legends; Let'er Buck; Little Roots; Love Couture; Mountain Home; Gifts Out of Hand; Pine Tree Peddlers; Redeemed Clothing; Runway Exchange; Rustic Roses; Sharon Malone; SOMA; Sonora Florist; Sonora Joe's; Sonora Taqueria; Sonora Thai; Sonora's Favorite Kitchen Store; Tar Flat Sonora; Union Hill Coffee; Ventana Annex Gallery.
For more details, call 209 536-5028.