Governor Brown Signs Bills Addressing State Housing Issues 'A to Z'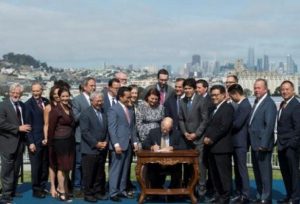 Gov. Brown signs housing bills package in San Francisco Sept 29 2017

View Photos
San Francisco, CA — Housing advocates, labor and business leaders showed up to watch Governor Jerry Brown sign a 15-bill package he says will help address California's critical housing supply and affordability issues.
Brown, after signing the bills at an affordable housing project located in San Francisco's Bayview Hunters Point neighborhood, maintained, "These new laws will help cut red tape and encourage more and affordable housing, including shelter for the growing number of homeless in California." Assembly Speaker Anthony Rendon describes the package as covering everything from A to Z –- affordability to zoning, adding that while it is not a magic wand it sets drafting tools, backhoes, hammers, and door keys to work.
According to state figures California currently has a 1.5 million-unit housing deficit. The signed bills are described by Democratic leaders as specifically address many of the underlying causes of the state's housing and affordability crisis that continue to tip the inequality balance among residents.
Among the bills Brown signed into law is a $4 billion bond ballot measure for affordable housing programs and a veterans' home ownership program that voters must ultimately approve next November.
SB 2, the Building Homes and Jobs Act, establishes a permanent funding source for affordable housing through a $75 fee on real estate transaction documents that is capped at $225 per transaction and exempts real estate sales. This fee looks to generate roughly $250 million a year that would be split among state and local housing programs.
Two more bills specifically streamline the approval process for infill developments in local communities that have failed to meet their regional housing needs and provide local governments with incentives to create housing on infill sites near public transportation.
Others ensure that cities maintain an ongoing supply of housing construction sites for residents of various income levels; also increasing the proof required for a local government to justify denials of low and moderate-income housing development projects as well as strengthening the state's ability to enforce laws that require local governments to achieve housing goals.