CHP Releases Details On Three Vehicle Pileup In Jamestown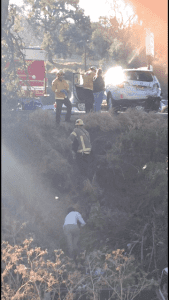 Crash on Highway 108

View Photos
Jamestown, CA – The CHP has released the names and more details regarding a three vehicle crash on Highway 108 yesterday morning.
The pileup happened near 5th Avenue around 8:25 a.m. in Jamestown, as reported here. The drivers involved were 50-year-old Richard Lester Bacon Jr. driving a 2003 GMC Sierra, 70-year-old Hermelinda Gonzalez Bland driving a Subaru Outback, both of Sonora, and 38-year-old Christine Marie Fisher of Jamestown behind the wheel of a 2011 Chevrolet Malibu.
The CHP reports Bacon failed to notice the two other vehicles stopped in front of him and smashed into the back of Bland, who then in a chain reaction slid into Fishers car. Bacon's pickup continued off the roadway down an embankment and rolled over landing on its wheels. The CHP reports minor injuries in the collision.
The crash occurred during the end of the morning commute, which created slow and go traffic until the wreckage was removed.
A special thanks to our community partner Shari Pingree for sending in pictures.