Update: Names Released In Avery Murder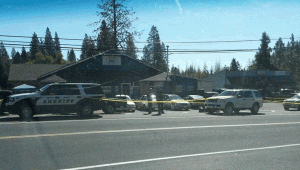 Murder Investigation In Avery

View Photos
Update at 5:30 p.m.: The Calaveras County Sheriff's Office reports the homicide at a business on Highway 4 in Avery involved a father and son.
The victim has been identified as 19-year-old Cole Bilderback. The suspected killer is his father, 47 year old David Bilderback. He now faces murder charges and is being held on a $2,000,000 bail in the Calaveras County Jail. No further details are being released at this time. (Further details surrounding the crime are below.)
Update at 9:50am: The Calaveras County Sheriff's Office reports that the man killed in Avery early this morning had reportedly been involved in a family altercation.
The victim is an unidentified 19-year-old male and the suspect arrested for allegedly shooting the teen is an unidentified 47-year-old male, who is a family member. The Sheriff's Office is declining to identify the two men because additional family are still being notified. The incident occurred at an unidentified business, which was closed at the time, and is where the two men reside.
The shooting suspect has been booked into Calaveas County Jail on $2-million bail related to the murder charge.
An investigation into the incident is still ongoing. Anyone who was in the area of the 4400 block of Highway 4 in Avery at around 1am and heard or saw anything pertinent to the case is asked to call the Calaveras County Sheriff's Office at 209-754-6500 to speak with detectives, or call the anonymous tip line at 209-754-6030.
Original story posted at 7:30am: Avery, CA — In Calaveras County, details are very preliminary, but there is an active homicide investigation underway in the community of Avery.
The Calaveras County Sheriff's Office reports that dispatch received a 911 call at 1:15am that a man had been shot at a business. Deputies responded and found a male had died from an apparent gunshot wound. One suspect has been detained, and it is an active crime scene with detectives conducting follow-up interviews. There are no outstanding suspects, or current threat to the community, according to the sheriff's office. The location of the shooting has not yet been identified by the sheriff's office, but officials report that more information will be released later this morning.