Calaveras Marijuana Enforcement Conducts Second Snuff At Illegal Site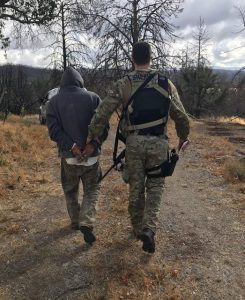 CCSO arrest at grow site Sept 21 2017

View Photos
San Andreas, CA — In a return appearance to an unregistered Calaveras County marijuana grow, enforcement officials eradicated a second crop and hauled a man away in handcuffs yesterday.
According to sheriff's officials, just after 9 a.m. members of the county's Marijuana Enforcement Team (MET) served a search warrant at a Mountain Ranch site located in the 8000 block of West Murray Creek Road. They add that not only is it not registered as a commercial medical cannabis cultivation site through the planning department, the team had previously served a search warrant there back in May and eradicated 399 marijuana plants. At the time of the first visit several subjects fled on foot.
However in yesterday's warrant service made after determining that cultivation operations were still underway investigators arrested 33-year-old Ricardo Cortes, who had been hiding in the brush near pot plot and charged him with illegal cultivation. Officials additionally report that 240 marijuana plants weighing 1,700 pounds were eradicated.
Assigning a rough-estimate $3,000 value per plant to both takes at this site, MET members destroyed approximately $1.2 million worth of illegal weed on their May visit and about $720,000 yesterday. To view images taken at the scene in the second incident, click into the image box slideshow.