Prison Employees' Acts Of Heroism Honored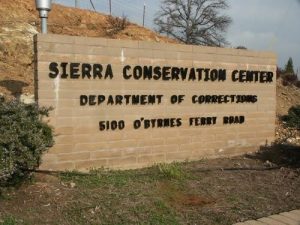 Sierra Conservation Center

View Photos
Jamestown, CA – Some Sierra Conservation Center employees are being recognized for their acts of valor.
Recently the California Department of Corrections and Rehabilitation (CDCR) honored 113 employees during its 32nd annual Medal of Valor Ceremony. Among those honored were four staff members of the Jamestown correctional facility. Prison officials provided this list of the recipients along with their deeds of heroism:
Correctional Counselor II Daniel Kirk received the Bronze Star for responding to an accident involving an elderly women who had struck a pole and required medical attention while driving home from work.
 Correctional Officer Daniel Glover received the Silver Star for responding to a vehicle accident involving an overturned vehicle in which he had to cut the driver from the vehicles seat belt and pull her away from the smoldering vehicle.
Correctional Officer Andrew Asjes also received the Silver Star for responding to an overturned vehicle while on his way home, which was on fire down an embankment. Officer Asjes ran down the embankment and moved the injured driver to a safe distance and provided basic medical first aid for numerous injuries until paramedics arrived.
Community Resource Manager Dameion Renault received the Gold star, the highest honor of all Sierra Conservation Center recipients. Dameion received this award for responding to a vehicle accident while on his way to work. While driving from home he was at the corner of Old Priest Grade and Highway 120 in Moccasin, CA, when a small car directly in front of him turned in front of an oncoming GMC Yukon. The driver of the small car was an elderly man approximately 70 years old. As the small car pulled into the intersection, the Yukon hit the driver's side front panel causing the Yukon to become airborne and roll down an embankment several times. Dameion immediately pulled off onto the side of the road and ran to the car first to see how the older man was doing, only to find him with a laceration to his face and unconscious. Upon realizing the elderly man was incapable of moving, Dameion ran to the edge of the cliff where the SUV had rolled to see who needed immediate help. The Yukon was approximately 20 – 30 feet down the embankment, caught up in a small barbed wire fence with gas leaking from the vehicle. Dameion yelled down to the SUV to ask who was in the vehicle and if everyone was OK. A male voice yelled out that there were two male adults and two male children, ages 11 and 16 in the SUV and all were ok but hurt.