Update: Suspect Commits Suicide After Being Chased By Law Enforcement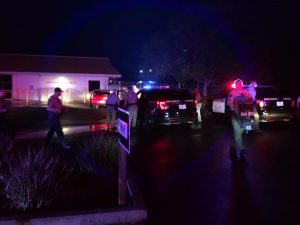 Law Enforcement Activity At CHP Office In Jamestown

View Photos
Updated at 9:25am: The Tuolumne County Sheriff's Office has identified the man who died of self-inflicted gunshot wounds as 24-year-old TJ Matthew Porter of Sonora.
Original story posted at 9:05am: Sonora, CA — The Sonora Police Department received multiple calls shortly before 10pm Wednesday about a man allegedly forcing a female into a car at gunpoint.
It happened in the 100 block of Columbia Way. By the time the police department arrived on scene, the vehicle was already gone. Officers soon learned that an estranged husband had taken his wife in a red Dodge vehicle. The CHP and Tuolumne County Sheriff's Department were notified and joined in on the search. The Sonora Police Department initiated cell phone tracking measures in an attempt to locate the vehicle and the occupants. Search efforts were successful and the Dodge was followed from Calaveras County and back into Tuolumne County. Eventually, the vehicle came to a stop in the California Highway Patrol parking lot in Jamestown.
The Tuolumne County Sheriff's Office reports that the driver died of a self-inflicted gunshot wound shortly after. The female was able to get away from the vehicle and suffered reported "minor injuries." Law enforcement officials are planning to release the man's name after next of kin has been notified.