Removing Trash From Creeks And Rivers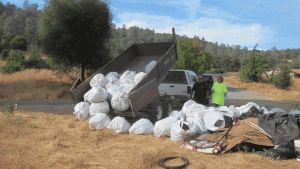 Cleanup Near Sullivan Creek

View Photos
Sonora, CA — Over the weekend, 900 volunteers helped to remove nearly six tons of trash along the lakes, rivers and streams of the Sierra Nevada.
It marked the ninth year of the annual statewide Great Sierra River Cleanup coordinated by the Sierra Nevada Conservancy. Locally, one of the cleanup efforts was along Sullivan Creek near Elsey's Pond. Brian Kermeen with the non-profit Tuolumne County Land Trust notes that around 20 cubic yards of trash were removed from a ½ mile stretch along Sullivan Creek.
He adds, "In addition to the dozen or so mattresses, some of them old and some of them newer, we found parts of a washing machine, tools, the remnants of a recliner, three dead skunks…I could go on and on about some of the things that we really didn't want to deal with."
Other items included old tent parts, rotted tarps and clothes, a sewing machine, tires, batteries and other junk. The toughest to physically remove was a 250 lbs. California king mattress. Around 75 volunteers came out along Sullivan Creek, the youngest being seven years old. They included a group of employees from Adventist Health Sonora, students from Columbia College, among others. Employees from Sierra Railroad loaded trash into a backhoe so it could be carried ¼ mile to a dump trailer at the Sonora Trading Post property.
Other local trash removal events took place along the Tuolumne River and near New Melones Reservoir. This year, the Tuolumne County Land Trust, the Tuolumne County Resource Conservation District and Bureau of Reclamation New Melones Reservoir, in collaboration with the University of California Cooperative Extension Master Gardeners of Tuolumne County, hosted the cleanup efforts in Tuolumne County.