Smashed Truck At Local Dealership Sparking Community Interest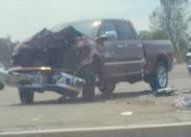 Smashed truck at Sonora CDJR car delaership

View Photos
Sonora, CA – Some citizens brought to the attention of Clarke Broadcasting a smashed truck, which can be seen in the image box, at the Sonora CDJR (Chrysler, Dodge, Jeep, Ram) dealership located at 13411 Mono Way in Sonora.
Inquiries to the CHP garnered some answers. Officer Faustino Pulido reports that on Sunday around 3:30 a.m., 26-year-old Jacob Donald Sabins of Sonora was driving a 1994 Ford Explorer westbound on Mono way. Pulido details, "Due to his high level of intoxication he drove across the two-way left turn lane and both eastbound lanes, over the sidewalk, through a chain barrier and smashed head-on into a Dodge Ram pickup on the lot. Also damaged in the wreck was another Dodge Ram 2500 pickup parked next to it."
The dealership is currently closed and calls related to when or if it will reopen have not been returned. Sabins was taken to Adventist Health Sonora where he was treated for injuries, but Pulido did not have any details on his condition. He adds that the CHP is recommending charges of DUI to the Tuolumne County District Attorney once we get the blood results as drugs and alcohol are suspected in the crash.