Wanted Man, Alleged ID Thief Caught During Suspicious Vehicle Check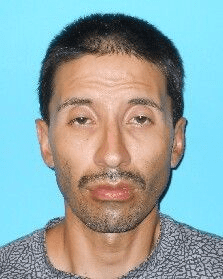 Thomas Alavardo TCSO Booking Photo

View Photos
Sonora, CA — A deputy's hunch to check out a suspiciously parked U-Haul rental pickup early yesterday in which a man was hiding resulted his arrest on multiple charges and warrants.
According to Tuolumne County Sheriff's spokesperson Sgt. Andrea Benson, just after 2 a.m. the deputy noticed the white pickup as it sat parked on a gravel easement just off Chicken Ranch Road in Jamestown. She states that the female passenger, 27-year-old Heather Roberts of Jamestown, exited the truck as soon as she saw the patrol car's spotlight and indicated that she was the sole occupant.
However the deputy located 36-year-old Thomas Alvarado of Modesto hunkering down in the cab. While he firmly continued to use the driver's license of a Sacramento area man to identify himself — even though the driver's license picture was clearly not a match — his actual license was located during a personal search inside one of his shoes.
The search of Alvarado and the truck also turned up several whitewashed and forged bank checks, three fake driver's licenses, possible stolen mail and credit cards not belonging to him as well as a small amount of methamphetamine and pipe for smoking it. A records check determined that
Alvarado had felony warrants out of Stanislaus County for charges of burglary, grand theft, identity theft and drug possession. Tuolumne County also had a warrant out on him for possession of drug paraphernalia.
While Roberts was charged with possession of drug paraphernalia, Alvarado faces a new slate of charges in addition to his previous ones. Among these are false personation of another; possession of forged bank checks valued at more than $950; forgery; identity theft; possession of deceptive government identifications; false identification to law enforcement; possession of methamphetamine and drug paraphernalia.